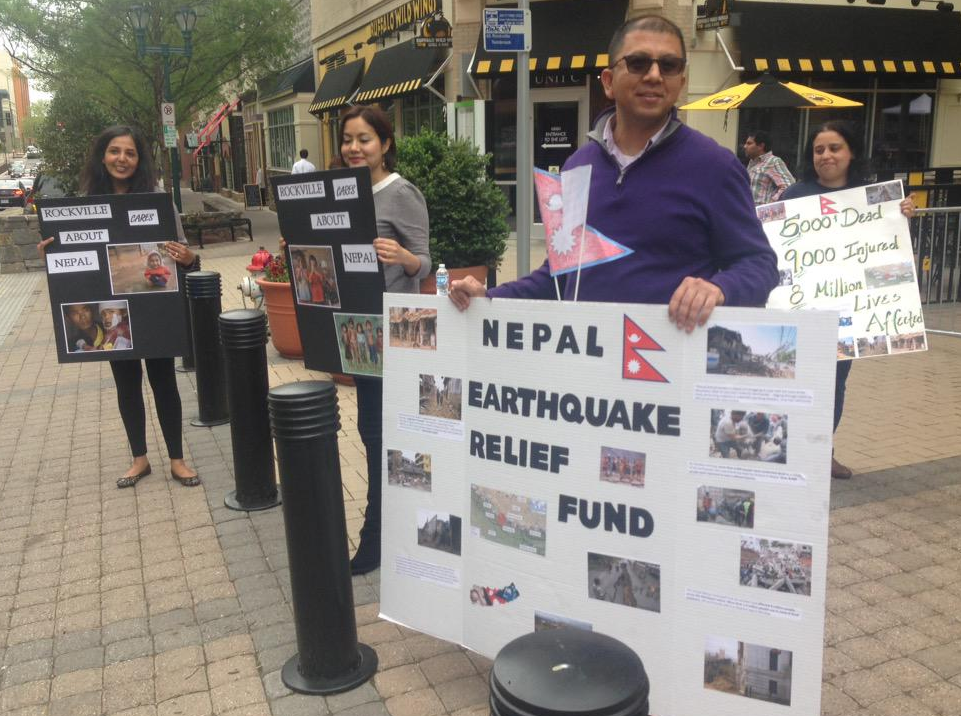 Rockville Resident Starts Fundraising Effort to Help People In Nepal (PHOTOS)
UPDATE Rockville resident Namita Acharya will be at the Rockville Town Center fundraising to help Nepal earthquake victims on May 7, 8 and 9 from 4 p.m. to 8 p.m.
Acharya, along with other volunteers, was there on April 30 and May 1 and the group so far raised $1,066.
"After each night of fundraising we provide an update to the 'Special Events Manager' in Rockville City. We want to keep the process transparent," Acharya said.
The Rockville resident said all money raised will be donated to Plan International– a nonprofit that promotes children's rights to end child poverty.
"There are a lot of rescue efforts that are still going on. … Whatever you donate will go a long way there. … Any amount you donate will help the people there," she said.
Acharya, who works as a webmaster for the Montgomery County Council, said she received permission from the City of Rockville to have a table at the town center and will be handing out information in case people want to donate online.
Acharya also said she has family in Nepal and is trying to keep in touch with them as much as she can.
"I talked to them this morning," Acharya said on April 30 adding that they are "shaken" but "ok."
She added that people can also donate to other organizations such as the Red Cross.
"[I'm] just trying to help my family and friends. … Some of my friends have had family members who died during the building collapse," she said.
In less than five minutes I've been here talking to this group, five people stopped and donated money. #Nepal pic.twitter.com/3TmzK2ziXz

— Aline Barros (@AlineBarros2) May 1, 2015
According to Namita Acharya, $5 can be a week worth of food to some families in #Nepal. pic.twitter.com/CA32ndYHse

— Aline Barros (@AlineBarros2) May 1, 2015
Rockville resident Namita Acharya is the webmaster for the Montgomery County Council but today she is using the web to communicate with her family back home in earthquake ravaged Nepal. In her own words, she tells us how she learned about the devastating earthquake and how her family is doing there today. For more on […]