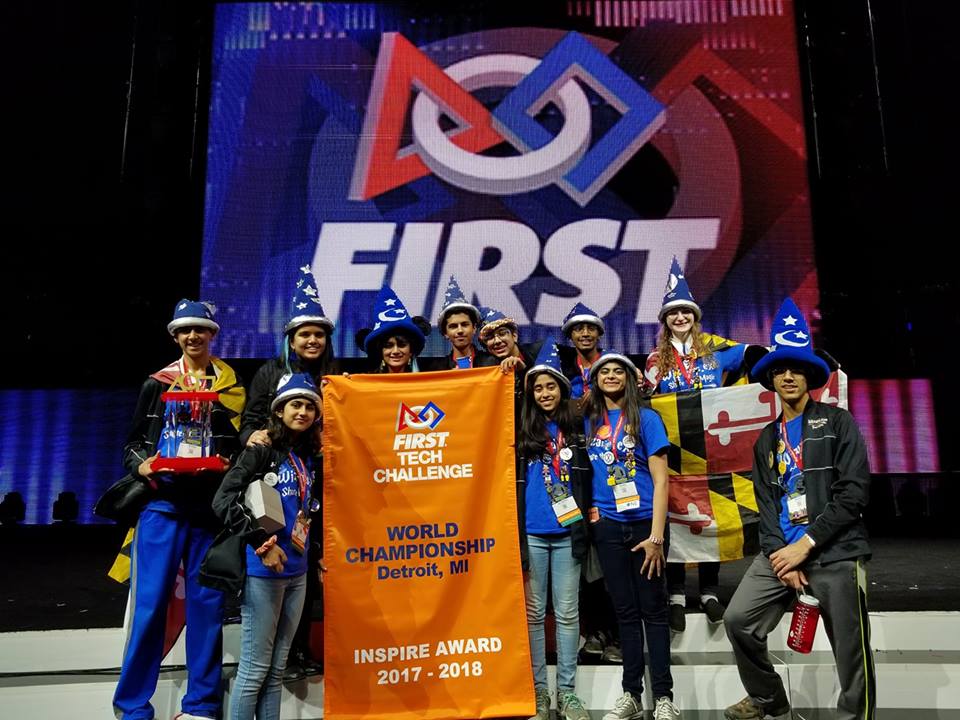 Rockville Robotics Team Takes Top Prize in World Championship
Out of more than 60,000 students across 6,000 teams, a group of students from Rockville was named the top team at the World Robotics Championship held in Detroit. Wizardz.exe's victory comes after beating 12 other teams at the East Coast Super-Regional Championships.
The Wizards competed in the "FIRST Tech Challenge," at the world championships where they were required to think like engineers. First, the team had to build robots from a reusable kit of parts, develop a strategy, document their progress, and compete head to head.  Teams worked in an alliance to go on a "robot adventure." The goal in the competition was to score more points that the opposing alliance during 150 seconds of game play that included autonomous and driver-controlled periods.
The FIRST Tech Challenge World Championship Inspire Award went to Wizards.exe, recognizing excellence in robot design and teamwork.
Congrats to @MoCoCouncilMD Web Mgr Srivalli Subbaramaiah, whose daughter Devasena & Robotics Team 9794, Wizards.exe, from #Rockville received the @FIRSTweets Tech Challenge World Championship Inspire Award, recognizing excellence in robot design & teamwork. #STEM @MCPS

— Hans Riemer (@hansriemer) April 30, 2018