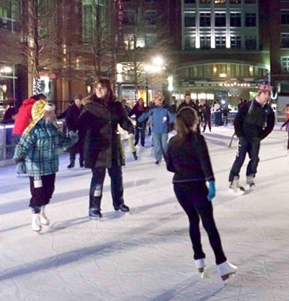 Rockville Ice Rink Grand Opening Celebration (Photos)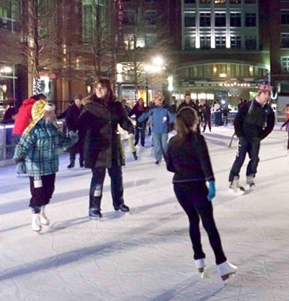 The Rockville Town Square Ice Rink opens for the 2013 – 2014 skate season Nov. 8 with a party from 6 to 10 p.m. The first 100 adult skating ticket purchases will receive a free fleece blanket. The Lloyd Dobler Effect Band will perform from 6 – 10 p.m.
Schedule of Events Nov. 8:
6:30 p.m: Opening Ceremonies with Tommy McFly from FRESH FM, the Official Spirit Squad and Mascot of the Washington Capitals, the Red Rockers and Slapshot, former NHL star Alan May
6:45 p.m: Special skating performance Michael & Rachel Parsons
7 – 11 p.m: Ice rink is open for general skating
7 – 8:30 p.m: Autograph Session with NHL star and former Capital Alan May and meet and greet with the Official Mascot of the Washington Capitals, Slapshot
7 – 9:30 p.m: Mingle with Tommy McFly and the Official Spirit Squad of the Washington Capitals Red Rockers
7 – 10 p.m: FRESH FM and The Fan promotional team will be onsite with prizes including a Caps ticket giveaway
Information and Schedule for the Rockville Ice Rink:
The ice rink, with 7,200 square feet, is the largest outdoor ice skating rink between Baltimore and Washington DC. It is the largest in all of Montgomery County.
Skate all evening, starting at 7:30 pm, while listening to live music from the Dan Haas Trio.
For the season opening hours are:
Mon-Thur.  (noon – 10 p.m.)
Fri. (noon – 11 p.m.)
Sat (10 a.m. – 11 p.m.)
Sun (10 a.m. – 10 p.m.)
Extended hours on holidays.
Skating Rates:
$7 (12 and under)
$8 (13 and older)
$3 Skate Rentals
Family Season Passes and Individual Season Passes are available.
Discount cards are available.
Learn to ice skate:
Ages 7-15: 9 – 9:25 a.m.
Ages 3-6: 9:30 – 9:55 a.m.
$85 for 5 classes
Register by phone or in person at the skate shake.
For more information visit the Rockville Ice Skate Shop, 131 Gibbs Street, Rockville. Or, visit the ice rink website here.