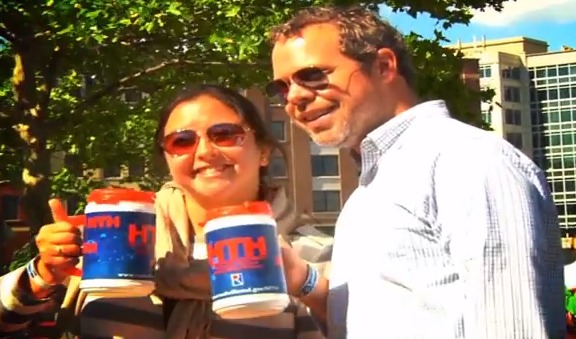 Rockville's Hometown Holidays & Taste of Rockville
Visitors to Rockville's Hometown Holidays should bring their appetites, as 19 local restaurants are lined up to offer tasty bites from pulled pork sliders, pizza and wings to kebabs, gyros and empanadas. These foods and more will be featured at the Taste of Rockville, from 2 to 10 p.m. on  May 24 and May 25 in Rockville Town Center.
The Rockville Chamber of Commerce and Community Ministries of Rockville are presenting the Taste of Rockville as part of Hometown Holidays. Tickets for food will be $1.25 each, with most menu items costing between one and four tickets each. Tickets will be available for purchase at the two Taste of Rockville locations in town center (credit cards accepted).
Restaurants that will bring their best eats to the Taste of Rockville include: Ambrosia Restaurant, American Tap Room, Armand's Pizzeria & Grille, The Bean Bag Deli & Catering, Bon Chon Chicken, Buffalo Wild Wings, Carmen's Italian Ice, Dawson's Market, The Fresh Market, La Tasca, Oro Pomodoro, Nantucket's Reef, Potomac Pizza, Ring of Fire Grill & Tavern, Rockland BBQ & Grilling Company, Seasons 52, Sheba Ethiopian Restaurant, Spice Xing and Paladar Latin Kitchen & Rum Bar.
The City will sell a Hometown Holidays (HTH) souvenir mug at the festival again this year. Purchase a mug at any beverage booth at the festival and your first beer is included (only $10). Visitors who purchased a souvenir mug at last year's festival can bring it to fill for a fee at this year's event.
In addition to the Taste of Rockville, Hometown Holidays will feature music on five stages from more than 30 bands, amusements and entertainment for children, and the Memorial Day ceremony and parade. Events run from 2-10 p.m. on Saturday, May 24 and Sunday, May 25. The Memorial Day ceremony begins at 9 a.m. on May 26 in Town Square with the parade to follow at 10:30 a.m. on Monday.