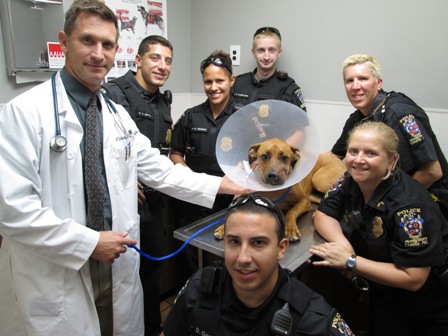 Ruby Receives a New Leash on Life (Photos)
If Ruby was a cat, she'd be down one life, after being shot by a shotgun earlier this month.
Montgomery County Police responded to a report of a shooting at a Wheaton home on Aug. 21 that involved the family dog. According to the police, officers from the Fourth District found Ruby, a 9-month-old boxer mix, bleeding profusely and having trouble breathing. Police found that Ruby had been shot on the left side of her face and shoulder with a shotgun. Officer Michelle Ballor immediately loaded Ruby into her police vehicle and drove her to the Kindness Animal Hospital at 2130 University Boulevard West in Wheaton. At the animal hospital, Officer Ballor was met by Dr. Jeff Zolkiewicz, who immediately began life-saving measures.
Veterinarians at the hospital determined that Ruby would need extensive medical care to save her life, according to the police. Officer Noah Leotta spoke with Ruby's owners and suggested they consider surrendering Ruby to the hospital.
When Sgt. Dawn Felsen visited Ruby in the hospital earlier this week, she learned that Ruby was improving after undergoing several surgeries but needed to undergo additional procedures. Felsen discovered that Dr.  Zolkiewicz had absorbed all of the costs for these surgeries. Dr. Marc Katz, one of Dr. Zolkiewicz's colleagues at the hospital, says that, "Dr. Zolkiewicz has made it his mission to save this dog."
Due to the nature of her injuries, her appearance, and possible need for future specialized care, the hospital staff does not think that Ruby is a good candidate for adoption. But there is great news. Dr. Zolkiewicz recognizes that Ruby is a real "gem" and has decided to adopt her.
The police shift that responded to the initial shooting call is collecting money at the Fourth District station  at 2300 Randolph Road to help defray some of the costs of Ruby's care.
Police continue to investigate the shooting.
This is a story you won't soon forget. Meet Ruby, a nine-month-old boxer mix who is recovering from three surgeries after she was shot in Wheaton. An extraordinary veterinarian is credited with giving Ruby a new "leash on life." CCM's Susan Kenedy reports. If you would like to donate to help Ruby, visit this site. […]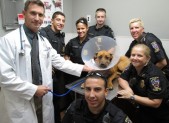 If Ruby was a cat, she'd be down one life, after being shot by a shotgun earlier this month. Montgomery County Police responded to a report of a shooting at a Wheaton home on Aug. 21 that involved the family dog. According to the police, officers from the Fourth District found Ruby, a 9-month-old boxer […]