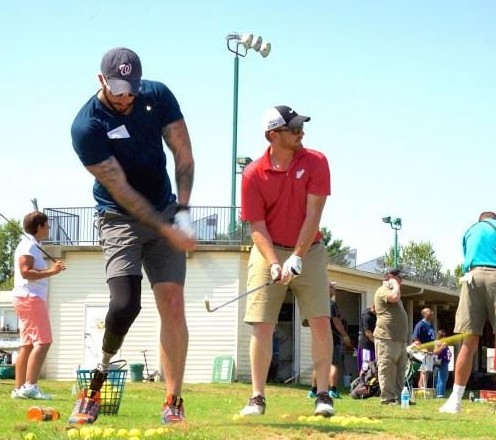 Salute Military Golf Association to Provide Free Golf Clinics for Wounded Veterans in Olney (PHOTO)
The Salute Military Golf Association (SMGA) will host golf clinics in Olney this spring. The clinics are free of charge for wounded veterans and their families.
The SMGA golf clinics were started to give wounded servicemen and women a social and therapeutic outlet in between their recovery process. Golf provides a social outlet for veterans and their families and SMGA will provide accessibility options such as Paragolfer mobile chairs and programs for the severely injured.
Olney Golf Park, located at 3414 Emory Church Road, will host the clinics every Saturday for eight weeks starting April 2 until May 21. Free childcare and a catered lunch will be provided. Participants will receive instruction, equipment and will also be eligible for custom fitted golf clubs.
The SMGA was founded in 2006 by former PGA Tour golfer Jim Estes and his childhood friend Jamie Winslow. The organization aims to create a beneficial outlet for post-9/11 veterans who are undergoing treatment at Walter Reed Army Medical Center. So far, SMGA has provided 1,500 sets of custom fitted golf clubs to veterans who've participated in the program according to a news release.
To register for the golf clinics or for more information you can contact Jina Myers, manager of commmunications at SMGA, by calling 301.500.7449 or by email at jina@salutemilitarygolf.org