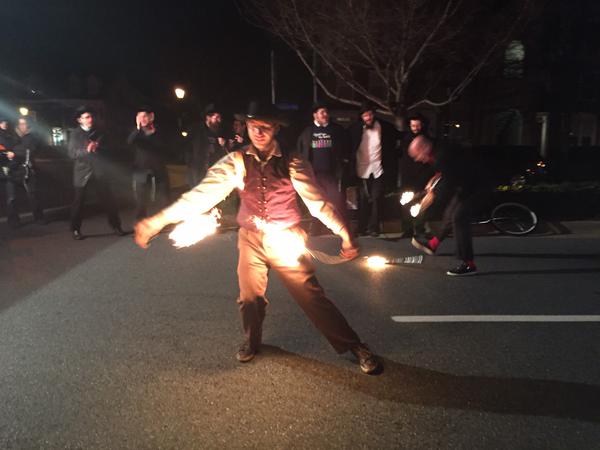 Santa and Hanukkah Parades Share Spotlight at Rockville Fire Station (PHOTOS) (VIDEO)
There were a few rabbis, Christmas lights, a menorah and Santa Claus and it was all under one roof and the roof was that of the Rockville Volunteer Fire Department Thursday night.
For the first time, Station 3 out of Rockville hosted the Santa Ride, a parade through the community with Santa on the fire engine and the Hanukkah Parade, sponsored by the Chabad Lubavitch of Upper Montgomery County on the same night.
Along with the usual calls run out of the station, the Rockville Volunteer Fire station was bustling.
"I love that in this country we can do that. It's what's great about this country," said Deputy Chief Jim Vagonis.
The station has been partnering with the Chabad Lubavitch of Gaithersburg for a number of years and the celebration keeps getting bigger. This time the fire engine led the parade with a menorah strapped to the front. At each stop fire jugglers and a unicyclist entertained crowds of people. Others danced and tossed chocolate gelt to the crowds. Emergency vehicles accompanied the group which made six stops along its way to the Chabad House off Darnestown Road where the Community Menorah wass lit and a party ensued.
"This is the only Hanukkah parade of its kind in the world and you're seeing it here," Rabbi Shalom Raichik.
Unicycle and fire jugglers at Chanukah Celebration. #HappyChanukah pic.twitter.com/4icYoUTY7G

— krista brick (@lmjpbrick) December 18, 2014
First time Santa Ride and Menorah Ride at #RockvilleVFD are on the same night. pic.twitter.com/EKpL8zV2uE — krista brick (@lmjpbrick) December 18, 2014
Getting ready for the Hanukkah Celebration leaving from #Rockville VFD.@mymcmedia pic.twitter.com/ZrCmrmPWyg

— krista brick (@lmjpbrick) December 18, 2014