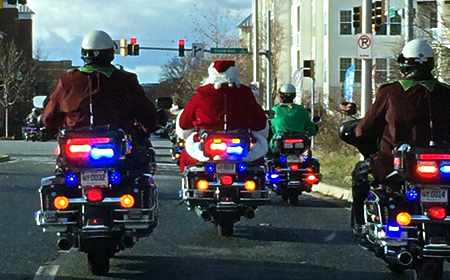 Santa Delivers Toys to Children at The Children's Inn at NIH (VIDEO)
Santa traded his sleigh for a Montgomery County Police Department motorcycle earlier this month. The annual Police Santa Ride began in Germantown and made many stops along the way, including Wegmans' Food Market in Germantown, the Public Safety Headquarters in Gaithersburg, Mama Lucia in Rockville, downtown Silver Spring on Ellsworth Street, and finally The Children's Inn at the National Institutes of Health (NIH).
The Montgomery County Police Department's motor officers collected donations from all six police districts, area businesses, and residents to purchase gift cards from area stores to assist families living at The Children's Inn.
These gift cards will assist families in purchasing food and supplies during their stay at The Inn.
"When we go around this world, I think it's up to us to try to bring joy to other people. You can do something, when you have the power to make somebody's day just a little bit better. Or to make them smile," said the man in the red suit who happens to be Robert Ladany, a Montgomery County police officer with the Germantown motor squad.
Laura King, senior director of volunteers and community outreach at The Children's Inn, said it was an exciting event where there were approximately 30 officers spreading Christmas cheer through the community and bringing awareness about the children at NIH.
"Children staying at The Children's Inn are being treated for serious life-threatening illness, many different cancers … blood disorders," King said.
If you wish to contribute, visit www.childrensinn.org, click the "Donate for the Holidays" button and select "2014 Police Santa Ride" or drop off donations at any Montgomery County Police District station.