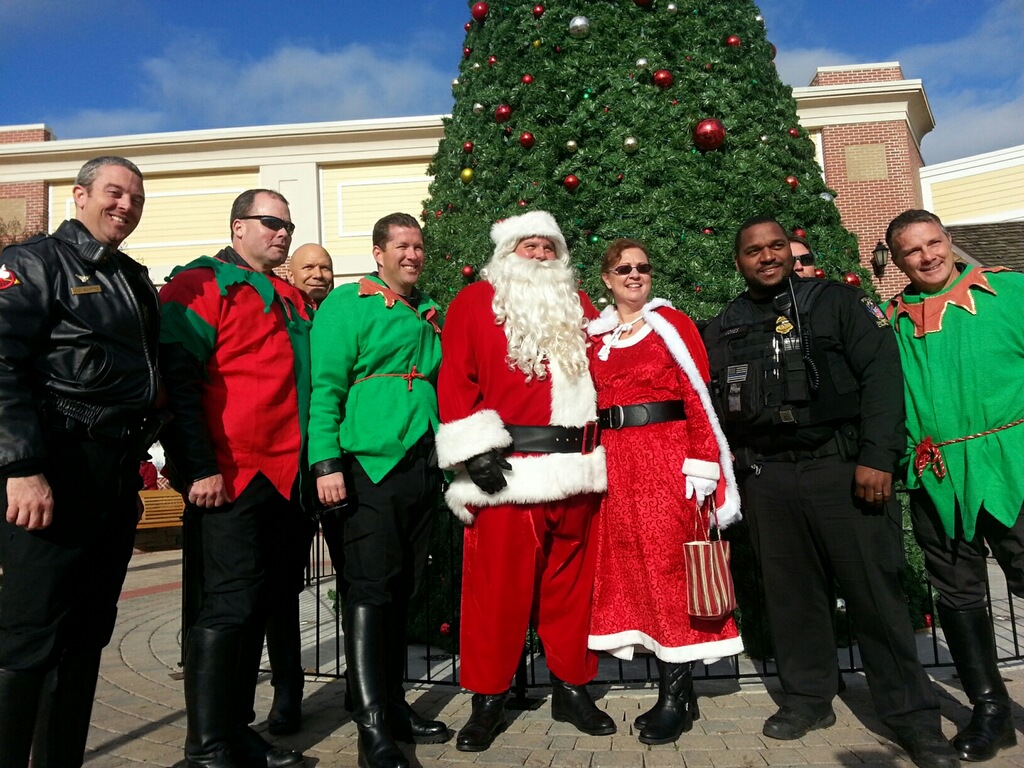 Santa Ride Benefits The Children's Inn at NIH (PHOTOS & VIDEO)
Santa traded in his sleigh for a new kind of ride on Dec. 16. That's right, on this day Santa was traveling aboard a Harley to communities across Montgomery County – from Germantown to Bethesda- and he was not alone.
With lights and sirens flashing, a police escort accompanied Santa as he collected gifts and donations for a party at The Children's Inn at NIH.
In this MyMCMedia Extra video, you can watch Santa and Mrs. Claus visit with smiling passersby in Olney.
According to a police department news release, more than 1,500 families came from 50 states and 86 countries to stay at The Children's Inn in fiscal year 2015.
The donations collected during the Santa Ride also provide funding for gifts for the children staying at the Inn while receiving treatment at NIH.
If you wish to contribute, visit www.childrensinn.org, click the "Donate" button, enter your information and indicate that you are giving in response to the "Santa Police Ride."
Riders will start the ride at the 5th District (Germantown) Station at 2000 Aircraft Drive at 9:00 a.m.
First stop will be the Upcounty Regional Services Center at 12900 Middlebrook Road, riders are expected to arrive 9:20 a.m.
Second stop will be Wegmans located at 20600 Seneca Meadows Parkway, riders expected to arrive at 9:50 a.m.
Third stop will be Kentlands Market Square by the Starbucks at 121 Market Street, riders expected to arrive at 10:40 a.m.
Fourth stop will be the Public Safety Headquarters at 100 Edison Park Drive in Gaithersburg, riders expected to arrive at  12:15 p.m.
Fifth stop will be atFair Hill Plaza – Harris Teeter at 18169 Town Center Drive in Olney, riders expected to arrive at 12:55 p.m.
Sixth stop will be Ellsworth Drive near Starbucks at 915 Ellsworth Drive in Silver Spring, riders expected to arrive at  1:45 p.m.
From there riders will  stop for lunch at Not Your Average Joe's at 10400 Old Georgetown Road in Bethesda at 2:30 p.m.
The final stop before riders make their way to The Children's Inn will be at Potomac Village Shopping Center, near Starbucks, Strosniders Hardware
10110 River Road at 4:00 p.m
Santa and accompanying officers will arrive at The Children's Inn at 4:45 p.m. This is a private event and for patients and family only.
Santa visits with children @TheChildrensInn #SantaRide https://t.co/OiKLmndj0z

— Montgomery Co Police (@mcpnews) December 16, 2015
Santa and his motor escort has arrived @TheChildrensInn ! All the kids were so happy to see him! #SantaRide https://t.co/Wlvu8spGlw — Montgomery Co Police (@mcpnews) December 16, 2015
Enjoying the annual #MCPSantaRide! Thank you to everyone involved for supporting #TheChildrensInn @mcpnews pic.twitter.com/AxCrMr5EAT

— The Children's Inn (@TheChildrensInn) December 16, 2015
Santa and elf talks to @TheChuckCarroll about how important & fun #MCPSantaRide is to MCP and @TheChildrensInn. pic.twitter.com/K1NF8mwG3X — Montgomery Co Police (@mcpnews) December 16, 2015
We have visited the Upcounty Reg. Services Center& @Wegmans. On our way to Kentlands(near Starbucks)! #MCPSantaRide pic.twitter.com/1oNtY39ZBg

— Montgomery Co Police (@mcpnews) December 16, 2015
Thank you to @Wegmans for its generous donation to @TheChildrensInn #MCPSantaRide pic.twitter.com/9L1PerQtya — Montgomery Co Police (@mcpnews) December 16, 2015
Santa is on his way! #MCPSantaRide pic.twitter.com/WtvEfvECLP

— Montgomery Co Police (@mcpnews) December 16, 2015