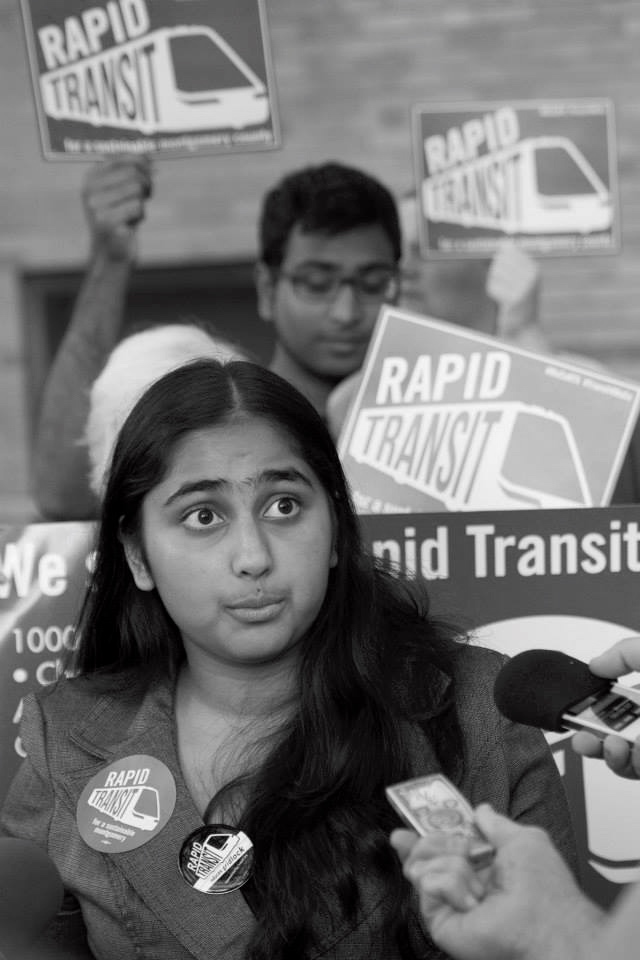 Sareana Kimia:  A Rising Star and Youth Advocate in Politics for Montgomery County
This month we feature Sareana Kimia who is currently the Asian American Pacific Island Maryland Deputy Director of Youth Outreach for the Democratic National Committee, the elected student member of the Montgomery County Democratic Central Committee, and the Chief of Staff for Young Democrats of America High School Caucus. As an advocate for other youth at 16-years-old, Sareana has already served on three political campaigns conducting voter outreach. We sat down with her to learn more about best practices on engaging youth in politics.

Tonia: Which candidates have you campaigned for in the past?
Sareana: I first campaigned for Terry McAuliffe in Virginia who ran for governor in 2013. I began canvassing for him and really got exposure to the nuts and bolts of campaigns. Afterwards, Delegate Will Smith's (MD-20) campaign manager tapped me to be a field director last year. I held that position for a few months, and eventually moved on to Lieutenant Governor Anthony Brown's gubernatorial race. For Brown, I did youth outreach throughout Montgomery County between April to November 2014.
Tonia: What type of campaign work have you done while serving in your political leadership roles?
Sareana: In my roles, I have conducted voter registration drives with the Coordinated Campaign during the Brown for Governor race, coordinated campaign canvasses and phone banks, organized major university campus events to promote democratic ticket, and planned multiple summits across the state and nation which focused on issues organizing.

Tonia: What qualities do you think make a good outreach director on the campaign trail?
Sareana: Persistence.  Persistance is absolutely essential to making sure you are connecting the voters and candidates. You need to be able to follow up with people in recruitment, to make sure that they show up to help campaign with you. Also, make sure you have the resources to do this outreach.

Tonia: How old were you when you started to be involved in the community?
Sareana: I started in the 6th grade, focusing on education issues. The magnet program at Parkland Middle School was threatened by budget cuts. I rallied other students at my school to show up with me to the Montgomery County Board of Education meeting, where I gave a speech on why they shouldn't get rid of the magnet program, and what the program meant to me and so many other students. I first got involved with the Young Democrats in 2013 to meet other people and network. I kept getting their invitation to attend their membership meetings everyone month, so one month I finally showed up! The meetings were beneficial because I had just founded my non-profit, Youth for National Change, which aims to bring young people to the policy discussion table at the state and national level.
Tonia: How can other young women get involved into politics like you?
Sareana: My advice is to figure out what you really care about first, learn your facts, and start fighting for what you care about. Walk into the room and own it. You can be cautious about what others have to say about your work, but at the end of the day, continue to do what you love.
Tonia: What are your career aspirations? 
Sareana: I want to be a civil rights attorney. Others in my political network have suggested that I run for office. If I did, I would run for state delegate. We'll see.

Sareana Kimia is a high school junior, and a dual enrolled student at the University of Maryland, College Park. Among her many political leadership roles, she is also the President/CEO of Youth for National Change, a national, non-partisan, youth advocacy organization. Additionally, Sareana promotes equal rights as a HeForShe Advocate for UN Women, the United Nations organization dedicated to gender equality and the empowerment of women. This is the third feature in a series highlighting women who are helping shape American politics. Are you a woman of color who has worked on the campaign trail in Maryland or another state? Share your story on "Politics Within Politics"! Email Tonia at: abuoyedpath@gmail.com. Get the latest news on Twitter: @abuoyedpath #politicswithin