School Board Passes Resolution to Excuse Absences For Protest Participation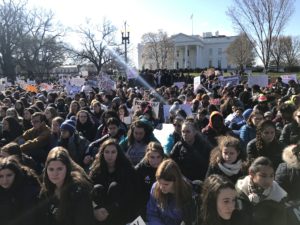 Montgomery County's Board of Education voted unanimously Tuesday on a resolution that would allow high school students to receive excused absences for participating in civic engagement activities.
The Board's vote comes amid concerns from parents and the community regarding MCPS students' involvement in protests and organized walkouts from school last year.
As a result, The Montgomery County Board of Education Policy Management Committee suggested that revisions be made to Policy KEA that would excuse students from school, up to three times per year.
"This is not meant to be disruptive," said Board of Education Member, Patricia O'Neill. "This is to maintain an orderly running of the school system to enable students to participate in civic engagement opportunities with parent permission."
The Committee's recommended draft states that to be excused from school, students must provide a written parent or guardian consent and an agreement of a representative of the sponsoring organization, and written approval of the school's principal to ensure compliance with Board policies and MCPS regulations.
The desired outcome for this updated policy, according to the Committee's draft, is to ensure that employees and students are "well informed and guided in their activities" regarding state election laws and participation in civic engagement activities.
"This revised policy is important to our education system," said Nate Tinbite, president of the Montgomery County Regional Student Government Association . "Participating in civic engagement activities will help students get registered to vote, and excited about what their voice can really do."
Following the Board's vote, Policy KEA, Political Campaigns and Political Materials, will be sent out for public comment for 30 days.