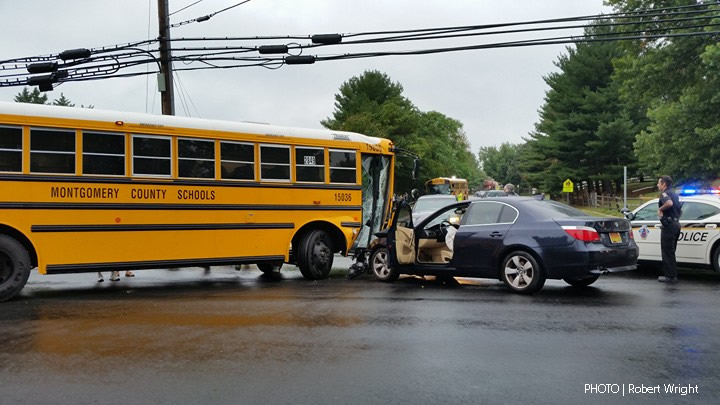 School Bus Collision at Woodfield Road and Moyer Road, Minor Injuries Reported (PHOTOS)
A school bus taking 20 children to Clearspring Elementary School collided with a blue sedan in Damascus this morning.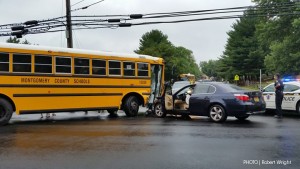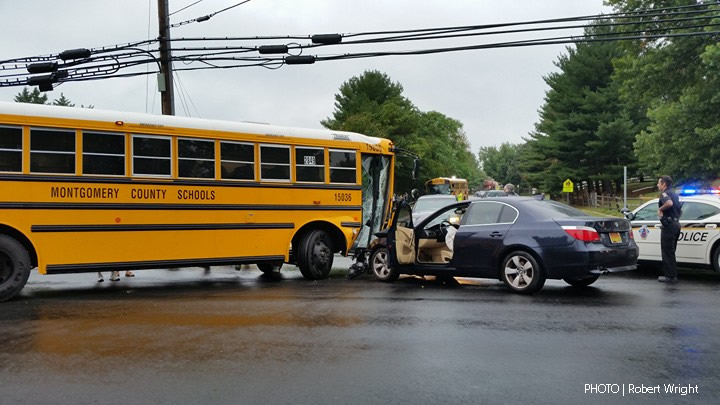 The crash occurred about 9:05 a.m. near the intersection of Moyer and Woodfield roads. According to Dana Tofig, Montgomery County Public Schools spokesperson, five children with minor injuries were taken to a local hospital as "precaution."
At this time, Tofig did not have information about the drivers of both vehicles.
Robert Wright, a Damascus resident, lives near the site where the crash happened and said he, along with other residents, helped get the children out of the bus.
"I live near that intersection and I have to go through it every day. … That's a very challenging intersection. … It's a huge community issue," Wright said.
Woodfield Road was closed in both directions and reopened at 10 a.m.
Wright said parents and children were "visibly shaken." He also said the school's principal, Holly Steel, was at the site "the whole time."
"MCPS staff responded immediately including the principal who remained on the scene," he added.
No other information is available at this time.
ICYMI (9a) Woodfield Rd.& Moyer Rd., involved school bus, 5 children being transported w/ minor injuries (check up) – some lanes BLOCKED

— MontgomeryCo(MD)Fire (@mcfrs) October 1, 2015
Collision involving school bus-Woodfield Rd. at Moyer Rd. Road is closed. 5 children being transported w/ minor injuries or for check up.

— Montgomery Co Police (@mcpnews) October 1, 2015