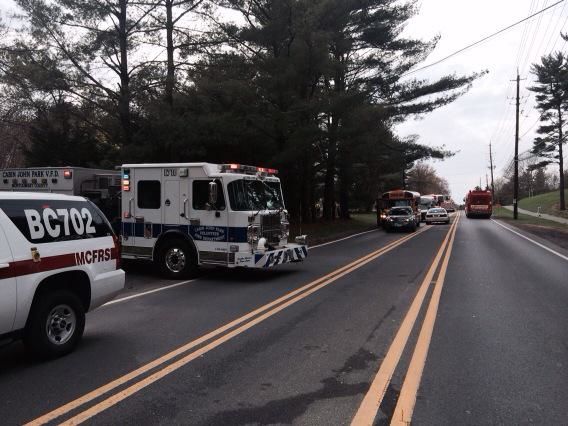 School Buses Collide on River Road in Bethesda
Two school buses collided on River Road between Bradley Boulevard and Newbridge Drive on Wednesday afternoon, according to a Montgomery County fire official.
Fire and Rescue Services Spokesperson Pete Piringer said EMS evaluated eight passengers and two drivers involved in the collision. He said there were two cars involved in the collision as well.
According to Piringer, two students and two adults were transported to area hospitals with non-life threatening injuries.
River Rd, 2 busses, total 8 passengers, 2 drivers, EMS evaluated all; transportd 2 students & 2 adults, all Pri3, NLT pic.twitter.com/2GLSiD7jpy

— Pete Piringer (@mcfrsPIO) April 15, 2015
Update – River Rd btwn Bradley Bl & Newbridge Dr, 2 private school busses & 2 other cars involved, rearended pic.twitter.com/56wIBaXCNU — Pete Piringer (@mcfrsPIO) April 15, 2015
Update…River Rd & Bradley Blvd, collision involves 2 (private) school busses, EMS evaluating 1 driver & 2 students, Pri3, NLT injury

— Pete Piringer (@mcfrsPIO) April 15, 2015
Traffic Advisory – River Rd CLOSED/BLOCKED between Bradley Blvd & New Bridge Dr, collision involves (private) school bus, 3 injuries — Pete Piringer (@mcfrsPIO) April 15, 2015