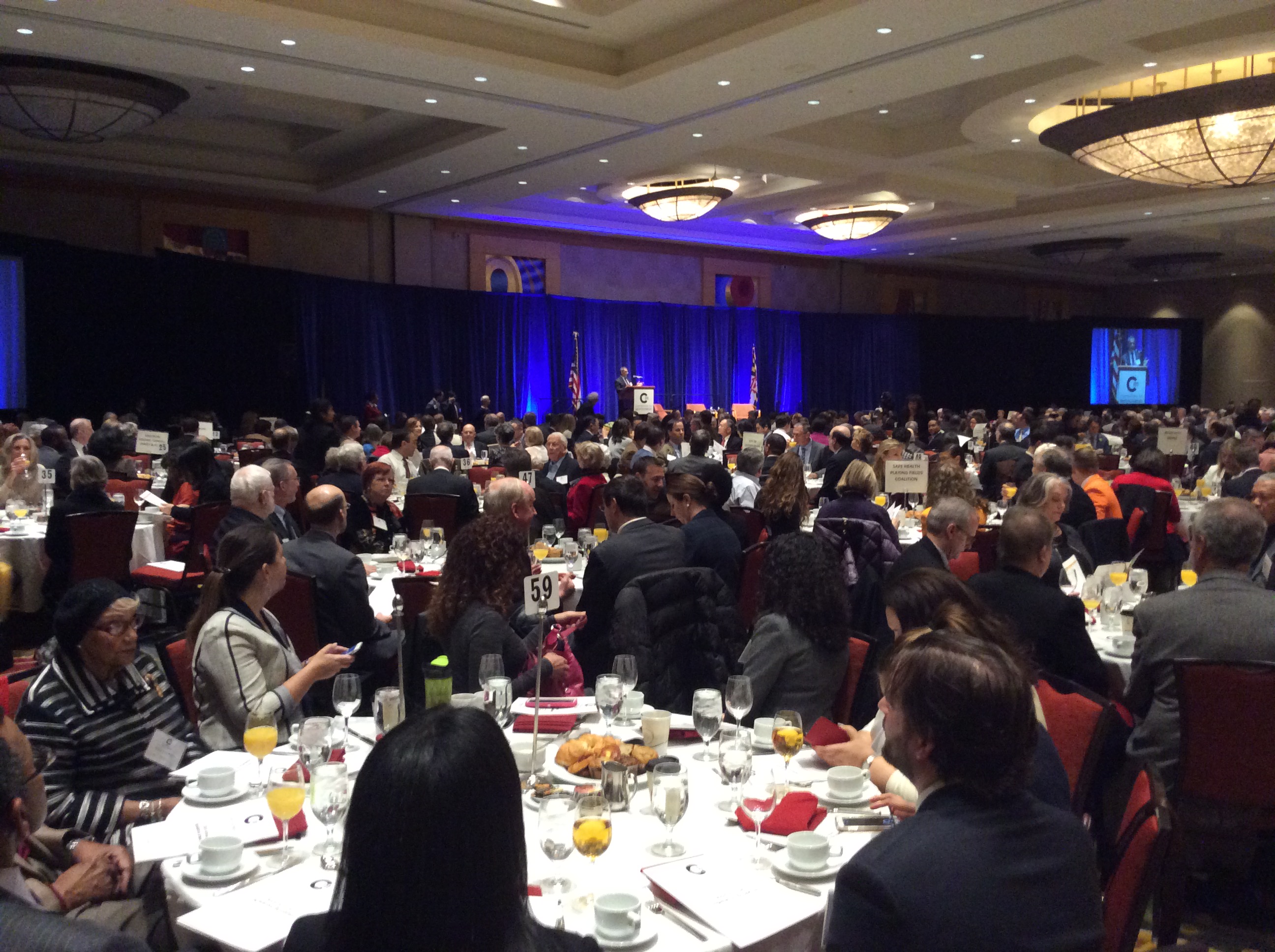 School Funding and More Discussed at Annual Legislative Breakfast (VIDEO & PHOTOS)
It's an annual event that is traditionally known as the unofficial kick off for the upcoming session of the Maryland General Assembly
Hundreds of Montgomery County and Maryland state leaders gathered at the Bethesda North Marriott Hotel and Conference Center for the 2016 Committee for Montgomery Legislative Breakfast on Dec 15.
The event was organized by the Committee for Montgomery, a coalition of leaders representing a broad cross-section of the County's business, labor, education, civic and Community-based organizations.
"This is a big event. We get about 700 to 800 of our closest friends and the largest gathering of elected officials in Montgomery County in one place all year," said Chair Breakfast Steve Simon, Committee for Montgomery. "This is an annual event but we're working all year."
The main goal of this breakfast is for local and state leaders to discuss Montgomery County's needs for legislators to advocate for when in Annapolis.
"I'm excited to be here for the Committee for Montgomery," said Montgomery County Councilmember Craig Rice. "It's always a great opportunity to bring all sectors of the community together, nonprofit, business, political, whoever you are, this is a great opportunity to be here and just learn about some of the great things that are happening  here but also to talk about what the future holds."
This year's keynote guests included Montgomery County Executive Ike Leggett and Baltimore City's Mayor Catherine Pugh who discussed how the two jurisdictions can work together to strengthen their economies.
"It really is important for us to work together," said Pugh. "Having worked in Annapolis over the last decade and having becoming the majority leader of the senate, I can tell you that I could have not gotten the work that I got done if were not for four of the Montgomery county delegation."
Maryland's 2017 Legislative Session begins Jan. 11. Officials say school funding and transportation projects will be top priorities.
Happening Now: state and local elected officials introducing themselves @mymcmedia pic.twitter.com/KRw6NDn0kw

— Mitti Hicks (@MittiMegan) December 15, 2016
Happening now: @ChrisVanHollen addressing the crowd @mymcmedia pic.twitter.com/ewrxntj0iE

— Mitti Hicks (@MittiMegan) December 15, 2016
Here's a list of today's speakers @CFMontgomery #CFMBreakfast @mymcmedia pic.twitter.com/6Jeuarrjyd

— Mitti Hicks (@MittiMegan) December 15, 2016

Correction: A previous version of this article had a typo and stated that Committee for Montgomery  was a coalition that included "communist-based" organizations. It had been corrected to community-based organizations.