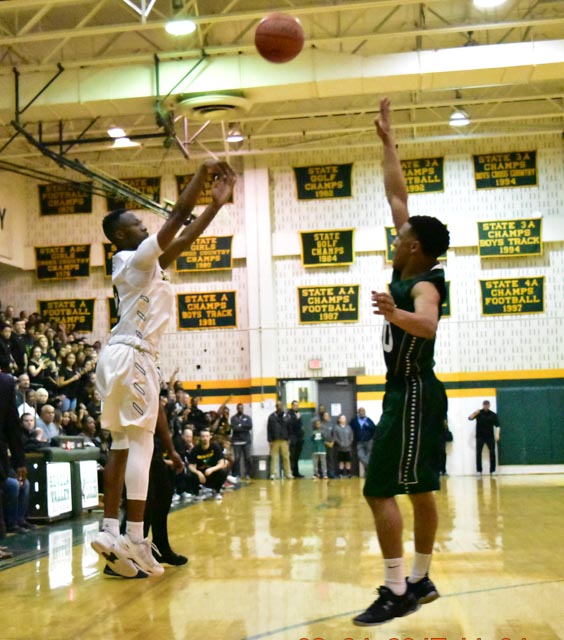 Seneca Valley Wins 2nd Consecutive 3A West Regional Championship in OT Over Tuscarora 47-42 (PHOTOS)
Seneca Valley's coach Brian Humphrey accurately described his team's victory after the over time win saying, "it wasn't our best offensive performance of the season." The game was not perfect or one that you would describe as being well played by either team. The game was a knock down drag out overtime game where the mentally tough Screamin' Eagles would not let their playoff run end on their home court.
Seneca Valley played a mixture of defenses giving Tuscarora different looks through out the game. At times the Screamin' Eagles played a triangle and two guarding Tuscarora's best two players, as well as a 1-3-1, and a stingy man to man defense. Tuscarora countered with mainly man to man and a 2-3 zone defense. Seneca Valley did have trouble with the Titans 1-2-2 full court defense which caused several turnovers during the contest.
There were 31.2 second remaining in the 4th quarter and Seneca Valley was down by two points, 39-41 and it was Tuscarora's ball. Seneca's full court man to man pressure force a Titan player to catch the ball too close to the end line and as the player stepped out of bounds the Screamin' Eagles had one more chance to tie the game. #2 Triston Price took the inbounds pass and drove the lane and was fouled in the act of shooting. As Triston calmly sank both free throws the game was tied 41-41 and the momentum clearly belonged to Seneca Valley.
Seneca scored first in overtime when #5 Tyran Crawford drove down the lane and scored. The Titans missed several shots, which ate away at the clock in the four minute overtime. Seneca Valley held Tuscarora to one point in the overtime and won the game 47-42 and now moves on to Xfinity Center Thursday versus Potomac in the semi final state class 3A championship at 5 pm.