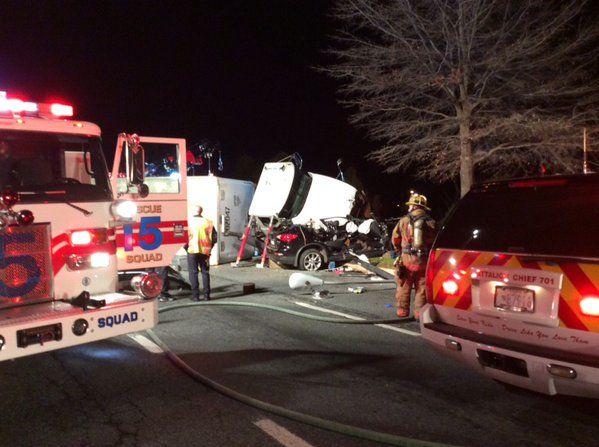 UPDATED: Cherry Hill Road Reopens After Fatal Collision (PHOTO & VIDEO)
UPDATED  Montgomery County police officers are investigating a fatal collision that occurred shortly before 3 a.m. today in the Calverton area of Cherry Hill Road and Broadbirch Drive.
Police said the preliminary investigation indicates that a 2006 Mack tractor-trailer was traveling east on Cherry Hill Road. Police said a 2012 Infinity EX35 was turning right from Broadbirch Drive onto Cherry Hill Road. According to police, the two vehicles collided at the intersection. The tractor-trailer, carrying United States mail, landed on its side. The circumstances of the collision are still under investigation.
The driver of the Infinity and an adult male passenger were transported to a local hospital with life-threatening injuries. The driver, identified by police as Yesewlek Tizale, age 24, of the 9700 block of Pleasant Gate Lane in Potomac died from her injuries at the hospital. The passenger's name is being withheld until family notifications can be made.
The driver of the tractor-trailer, identified by police as Daniel Free, age 48, of Wheaton, was transported to a local hospital with non-life-threatening injuries.
Anyone who witnessed this collision or has information about this collision is asked to call the Collision Reconstruction Unit at 240.773.6620.
ORIGINAL POST Two people were trapped in a SUV after a serious collision involving a tractor trailer at Cherry Hill Road at Calverton Boulevard in Silver Spring overnight.
It happened around 3 a.m. near the Orchard Center Shopping Center.
Fire and Rescue Spokesperson Pete Piringer said the tractor trailer landed on top of the SUV. Piringer said a man and woman were extricated from the SUV and transported to a local hospital in serious condition. According to Piringer, their injuries are life-threatening.
The driver of the tractor trailer was also evaluated and transported to the hospital with minor injuries, Piringer said. The tractor trailer is described as a U.S. mail carrier truck, according to Piringer.
Hazardous materials crews were also called to the scene to clean up a fuel spill from the collision, Piringer said.
Cherry Hill Road at Calverton Boulevard remained closed throughout the morning while the police investigation was underway. The road has now reopened.
Driver of tractor-trailer is adult male.

— Montgomery Co Police (@mcpnews) November 30, 2015
Adult female driver and adult male passenger in SUV transported w/life-threatening injuries to local hospital. — Montgomery Co Police (@mcpnews) November 30, 2015
Cont: Tractor-trailer (carrying mail) and SUV collided. Driver of tractor-trailer transported w/non-life-threatening injuries. MORE

— Montgomery Co Police (@mcpnews) November 30, 2015
Collision Reconstruction Unit continues to investigate serious collision at Cherry Hill Rd/Calverton Blvd. Call received 2:58 am. More- — Montgomery Co Police (@mcpnews) November 30, 2015
More…Cherry Hill Rd, 2 adults trapped in SUV, 1 male, 1 female, both transported w/ Pri1, serious injuries pic.twitter.com/e6RcjKxDJw

— Pete Piringer (@mcfrsPIO) November 30, 2015
(3a) Cherry Hill Rd & Calverton Blvd, collision involving US Mail TT & SUV, EMS transported 3 persons (2 serious) pic.twitter.com/vSiifi1vNA — Pete Piringer (@mcfrsPIO) November 30, 2015
Update – Cherry Hill Rd, 2 trapped in SUV vehicle, tractor trailer on top of car, HazMat dealing w/ fuel spill, road closed — Pete Piringer (@mcfrsPIO) November 30, 2015
Traffic advisory – Calverton Boulevard and Cherry Hill Rd., collision with entrapment — Pete Piringer (@mcfrsPIO) November 30, 2015