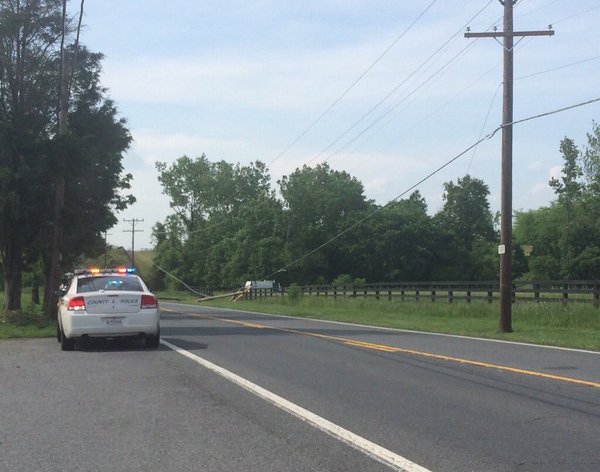 Police Investigate Fatal Collision on Darnestown Road in Beallsville
UPDATED 8:03 p.m. Montgomery County police officers are investigating a one car fatal collision that occurred Friday afternoon in Beallsville.
According to police, it happened at 3:40 p.m. at the intersection of Darnestown Road and Beallsville Road.
Police said the preliminary investigation indicates that the vehicle was traveling westbound on Darnestown Road near Beallsville Road, when for reasons still under investigation, the car left the roadway and struck a utility pole. According to police, the driver died from his injuries at the scene of the crash. Police have not released the identity of the driver, pending next of kin notification.
This collision remains under investigation. Anyone with information is asked to contact the Police Department's Collision Reconstruction Unit at 240.773.6620
ICYMI (345p) 19800blk Darnestown Rd., fatal crash, PD investigating, 1 DOA, van off road into pole, Road closed pic.twitter.com/840MIjtL3s

— Pete Piringer (@mcfrsPIO) May 27, 2016
UPDATE: Collision Reconstruction Units on scene Rt 28/Beallsville Rd. Single veh involved w/ single occupant adult male deceased at scene.

— Montgomery Co Police (@mcpnews) May 27, 2016
Traffic Advisory- Darnestown Rd CLOSED, PD investigating, pole down, power outages in Dicketson area(Potomac Edison) pic.twitter.com/Rll6ZUtPFE

— Pete Piringer (@mcfrsPIO) May 27, 2016
MCP onscene of serious collision Darnestown Rd (Rt 28) & Beallsville Rd. Intersection of Rt 28/Beallsville Rd CLOSED. MORE

— Montgomery Co Police (@mcpnews) May 27, 2016
CONT Ref collision at Rt 28/Beallsville Rd, Rt. 28 at Martinsburg Rd also CLOSED. Initial call received at 3:40 p.m. Updates to follow

— Montgomery Co Police (@mcpnews) May 27, 2016
Traffic Advisory – Darnestown Rd CLOSED/BLOCKED btwn Marttinsburg Rd & Beallsville Rd, collision w/ pole down, wires down

— Pete Piringer (@mcfrsPIO) May 27, 2016
Update – Bardstown Road & Beallsville Road, car into a pole, pole down/wires down wires, causing some brushfires, Road closed

— Pete Piringer (@mcfrsPIO) May 27, 2016