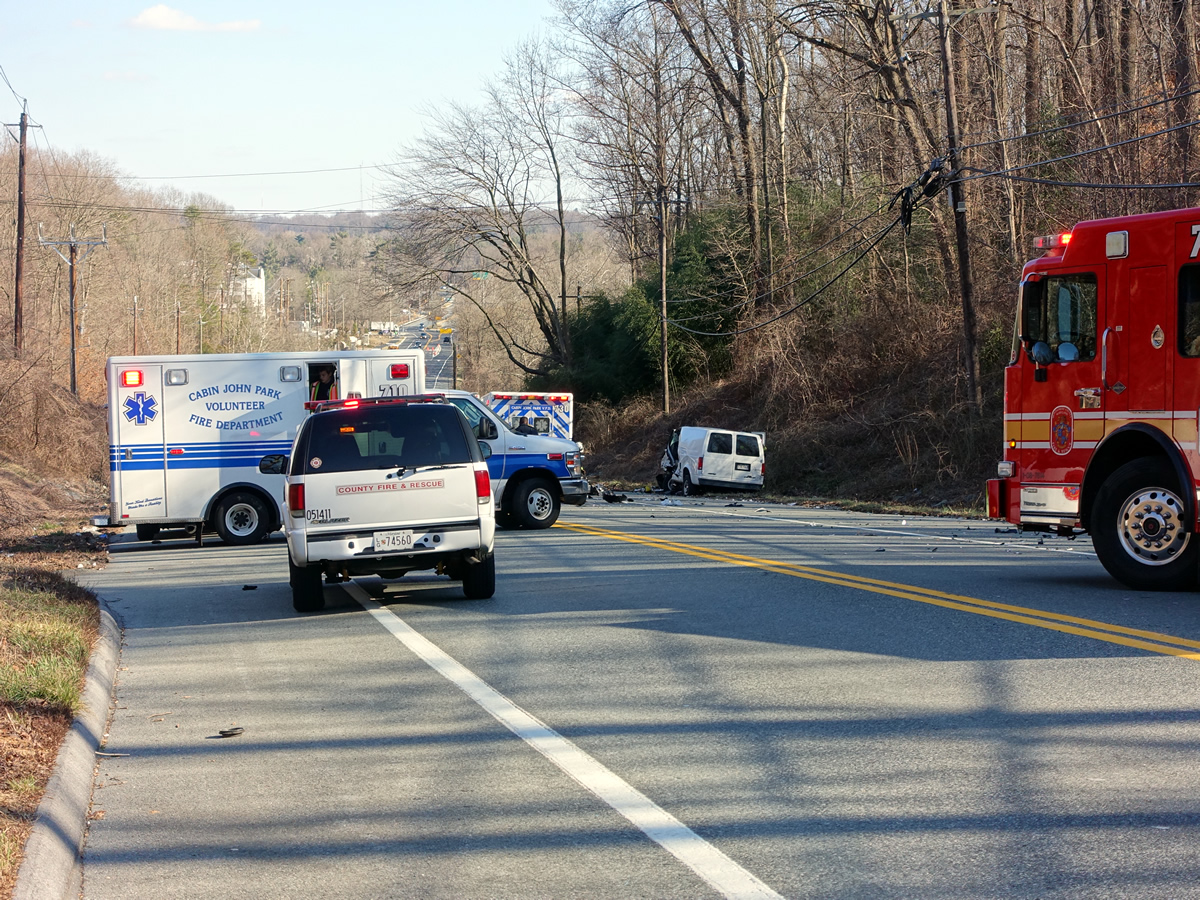 UPDATE: River Road Open After Earlier Collision at Clewerwall Drive in Bethesda (PHOTOS)
UPDATE: River Road is now reopen in both directions.
Montgomery County police officers and rescue services are on the scene of a two-vehicle collision on River Road (Route 190) in Bethesda. A portion of River Road between Bradley Boulevard and Seven Locks Road is closed.
Authorities are advising drivers to expect significant delays and to seek an alternative route.
More – River Rd, 2-vehicle collided, ended up 150' apart, EMS transported 2 adults, both NLT, van driver Pri2 trauma pic.twitter.com/TJIwGk9r1N

— Pete Piringer (@mcfrsPIO) February 27, 2016
Fire Dept. activity closes River Rd (MD190) in both directions at Clewerwall Dr. Expect significant delays. Seek alternate route. #MdTraffic

— MC Emergency Mgt (@ReadyMontgomery) February 27, 2016
Update – Rt190 River Rd BLOCKED at Clewerwall Dr, Potomac (view from 7 Locks Rd), PD & FD activity in area pic.twitter.com/yAYRfI3L1d

— Pete Piringer (@mcfrsPIO) February 27, 2016
Update – River Rd, 2-vehicle collision, work utility van vs car, van driver pinned, EMS evaluating several injuries, road CLOSED/BLOCKED

— Pete Piringer (@mcfrsPIO) February 27, 2016
Traffic Advisory – River Rd BLOCKED btwn Bradley Blvd & Seven Locks Rd, collision w/ entrapment, van driver pinned in vehicle

— Pete Piringer (@mcfrsPIO) February 27, 2016
PIC – River Rd & Clewerwell Rd, Potomac, collision w/ entrapment, MCFRS on scene w/ 1 person pinned/trapped, road BLOCKED

— Pete Piringer (@mcfrsPIO) February 27, 2016
Photos