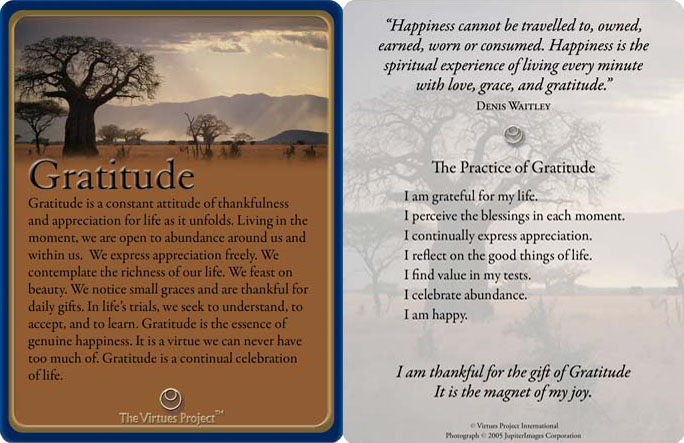 Serve Up Gratitude This Thanksgiving (Video)
I am a turkey every seven years; well now that I am a vegetarian I guess I am Tofurkey every seven years instead since my birthday is November 24th. It wasn't until I turned 50 that I realized being born on Thanksgiving is really special. The good news is that everyone can be born on Thanksgiving, because gratitude is an attitude. When we choose to be grateful we often see the world from a much more positive perspective, we feel better and empower others to feel better as well.
One of the fastest ways to raise our vibration is to make a gratitude list. It is a practice I personally do everyday. In the evening I make a list of at least 10 things I am grateful for. Even when challenges arise, gratitude helps me put a positive spin on things. For example, I may receive a large car insurance bill in the mail. I am grateful that at least I have a car and am covered by insurance. Sometimes things I am grateful for may seen small and insignificant, like my daily French Vanilla cup of coffee from 7/11. By focusing on gratitude it helps turn even the little things into gifts.
When we are grateful and appreciative toward others, it not only makes the other person feel better, but it raises our own vibration as well. Little things such as a smile, a hug, a kind word or your undivided attention go a long way. The gift of your presence is often the greatest gift you can give to someone you care about.
The book Every Monday Matters – 52 Ways to Make a Difference by Matthew Emerzin and Kelly Bozza offers an interesting suggestion on the 29th Monday: write a note of gratitude. In their book they show an uncanny picture of the statistics illustrating how many emails, text messages and pieces of junk mail we get, and how very few personal letters we receive. It is helpful to think about a person who we have not spoken to in a long time that we may want to thank for what they have brought to our life.
They suggest a postcard, a letter or other card and take a few minutes to write a warm and sincere message that clearly communicates your love and appreciation for that person. You can decide if you want to add any special touches like unique paper or scents or photographs, drawings on the envelope or a special stamp. Once you write that letter of gratitude, send it and see what happens! This book includes 51 more ways to honor the spirit and make every Monday matter.
Street Compliments is an inspiring SoulPancakes video where people tell others what they appreciate about the other person. If you are not a letter writing kind of person, perhaps you might consider creating a video showing your gratitude. You can keep your appreciate private and email it directly to the person you care about, or make it more public by posting it on YouTube or Facebook.
This Thanksgiving after you have given thanks and shared a meal with people you care about, instead of heading straight to the couch, round everyone up and do the Gratitude Dance with the Gratidudes?
Winston Churchill once said, "We make a living by what we get, we make a life by what we give." As we approach this holiday season I encourage you to reflect on the richness of your life. What are the gifts you so generously give to others and what are you most grateful for?
Wishing you all a meaningful Thanksgiving.
With much love and gratitude,
Dara