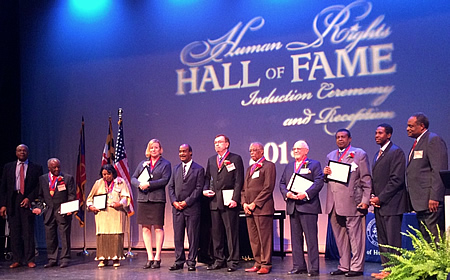 Seven County Residents Join the Human Rights Hall of Fame (VIDEO)
The Montgomery County Office of Human Rights inducted seven residents into the Human Rights Hall of Fame on Oct. 12. The free event was held at the BlackRock Center for the Arts in Germantown.
The seven county residents were recognized for their leadership, achievements to eliminate discrimination, work in equality for all, better education, advancing civil and human rights, among others.
"It's really exciting to see such a wealth of diversity in terms of what people are focused on; with one common goal. And that's to make sure that we can focus that there are equal rights, people's rights are protected, and that they're able to achieve whatever opportunities and goals that they want to," said Craig Rice, Montgomery County Council President.
This year the honorees are Dr. Dana Beyer, of Chevy Chase; Russell C. Campbell, Sr., of Burtonsville; Charles Kauffman, of Bethesda; Rev. Mansfield M. Kaseman, of Germantown; Rev. Ruby R. Moone, of Rockville; James C. Offord, of Silver Spring; and George B. Thomas, Sr., of Rockville.
Beyer was recognized for her work dedicated to equality among the LGBT community.
Campbell joins the Human Right Hall of Fame for his work in gang task forces, National Association for the Advancement of Colored People and others.
Kauffman was honored for his work ensuring the rights of the seniors in Montgomery County.
Thomas, Sr. is an educator who has actively worked for a better education.
Rev. Mansfield was honored for his work in interfaith ministries.
Rev. Moone officially entered the Human Rights Hall of Fame for her work to get equal rights to all, and finally, Offord, who worked for affordable housing and civil rights for minorities.
"We come from a very diverse here in Montgomery County but more importantly we have all kinds of people who have been involved at the very very grassroots level … Have kind of rolled their sleeves up and said 'What can I do to make Montgomery County better," said James Stowe, director of the Montgomery County Office of Human Rights.
More than 80 people are part of the Human Rights Hall of Fame. The event started in 2001 and is held every other year. To find out more about honorees, click here.