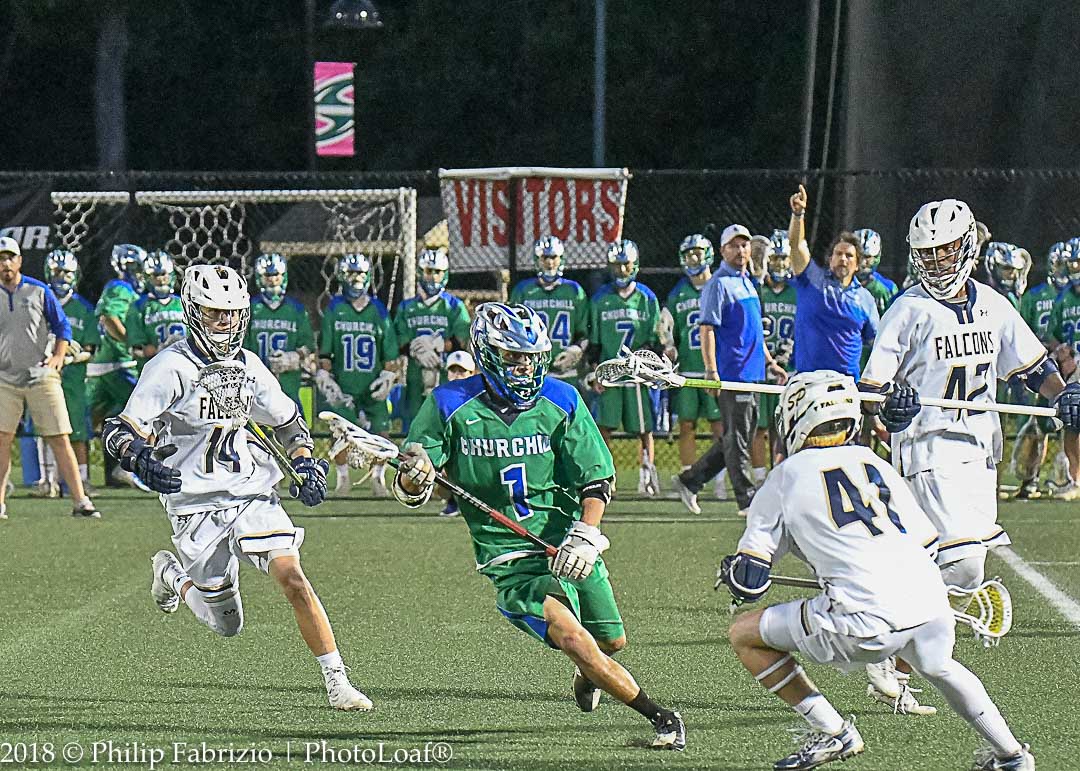 Severna Park Clinches Third Consecutive Boys LAX Title
OWINGS MILL, MD, Stevenson University, Wednesday May 23
Severna Park High School clinched it's third consecutive boys lacrosse title in a nail biter of a game.  The Churchill Bulldogs came up on the short end of a sudden victory overtime losing 8 to 7 after 1:22 minutes elapsed on the game clock.  Churchill lost last year to Severna Park in the state finals by the same score.
Like a scene from the popular movie Ground Hog Day, the game pattern repeated itself much to the consternation of the Bulldog nation.  Churchill led at halftime 5 to 3; and led by a score of 7 to 6 with 7:16 left on the game clock.  Severna Park found enough time to rally and push the game to sudden victory overtime.  The Bulldogs dug themselves into a hole when called for a defensive slashing penalty (1 minute) with 0:02 left on the game clock.  This allowed the Falcons to start the overtime period a man up.
However, Churchill's defense played superior the entire game under man-down conditions.  Again the Bulldog's held the Falcons to only one shot on goal as the defense burned away the remaining 58 seconds of the penalty. Some 24 seconds later Severna Park's Michael Harmeyer vaulted the ball past Churchill's goalie Andrew Robinson to capture the title.  Robinson was fantastic in goal all night facing down the steady Falcon assault. For the season he allowed 25 goals against 68 saves , a 70% efficiency ratio.  But as in the movie we have seen before, the Falcons control the ball in late game situations and took advantage of that opportunity.
Churchill's Brady Altobello (a Navy commit), had four goals to lead the offense.  Reed Moshyedi (a Brown commit), the Bulldogs second leading scorer was held in check all night by the tough Falcon defense.  Perhaps this was in respect to his outstanding play against the Falcons in last years final. Ryan Leonard (a Towson commit), another top Bulldog attackman, found the back of the net once during the evening on a strong play coming from behind the Falcon's goal in the fourth quarter.
This was Churchill's third state final appearance in four years.  Churchill's Head Coach Jeff Fritz, recently celebrated 25 years at the Potomac school as a lacrosse coach. He has 273 wins.  Over the years he coached the Bulldogs to seven regional championships, seven state semifinal appearances and three state championship appearances.  This year Churchill will graduate 18 seniors out of a roster of 36.
Congratulations to all the Churchill Bulldogs, for a strong 16-1 season.
Game photos to follow.
All photos copyrighted 2018 © Fabrizio | Photoloaf® for MCM