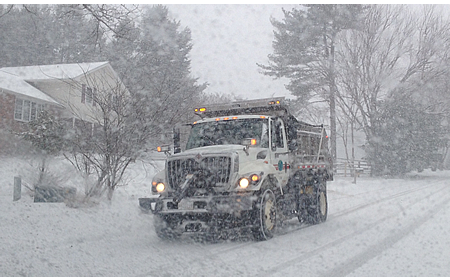 SHA Crews Prepare for Winter Storm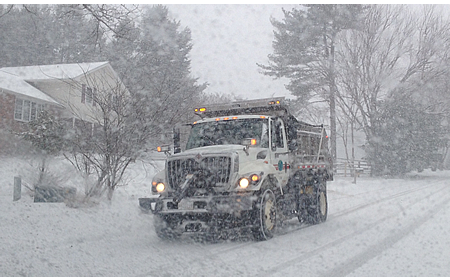 Another round of winter weather will soon impact the region, and the Maryland State Highway Administration (SHA) is preparing to face another storm that will affect travel statewide on Tuesday, Jan. 21. Early forecasts predict significant snowfall tomorrow, and drivers should adjust travel plans if possible.
"Please put safety first by planning now for driving conditions tomorrow," said SHA Administrator Melinda B. Peters. "We expect this storm to affect travel for most of the day, including both the morning and evening commutes. Please allow extra time and reduce speeds, especially while precipitation is still falling."
On. Jan. 20, some crews began anti-icing operations along major interstates and some heavily-traveled primary routes. Emergency operations and maintenance personnel statewide will monitor the storm's path and manage incidents from the Statewide Operations Center near BWI Thurgood Marshall International Airport. Crews will salt and plow roadways as conditions change, and SHA reminds all travelers to remember these tips:
• Prepare  for wintry travel. Providing additional time and space for highway crews and law enforcement makes traveling safer for everyone.
• Emergency trucking parking will be available if weather conditions deteriorate. The map with locations is available at www.roads.maryland.gov.
• Use caution when merging at ramps and intersections, and remain alert for pedestrians and cyclists.
• If your vehicle becomes disabled, make every effort to move safely from the travel lane and onto the shoulder.
• Ensure all head and tail lights are operational – See and Be Seen. Wipers On. Lights On. It's the Law.
• Before traveling to the airports, train stations or bus terminals, Know Before You Go! Dial 511 from a land line or mobile phone for traffic, weather alerts and road conditions. For internet access, visit www.MD511.org or www.chart.md.gov to view live traffic cameras.