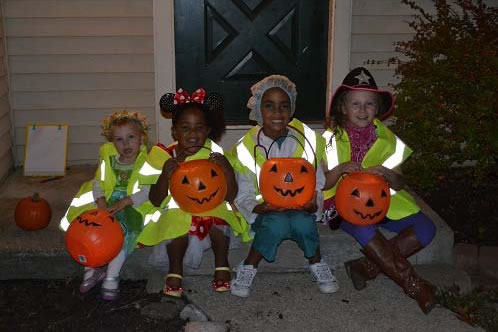 SHA Promotes Pedestrian Safety with Vests for Visibility Program (PHOTO)
We're just a few days away from celebrating Halloween and while children all over the country will be dressing up as ghouls and goblins to go trick-or-treating, the scariest part of All Hallows Eve is pedestrian safety.
That's why the Maryland Department of Transportation State Highway Administration (SHA) will be lending reflective safety vests for children, parents/guardians for Halloween at a number of SHA Maintenance facilities on Oct. 28th from 8 a.m. until 4 p.m.
This is a part of SHA's Vest's for Visibility program. Vests will be handed out on a first come, first serve basis and can be worn over costumes or even be turned into costumes.
"The Vests for Visibility program emphasizes the importance of our pedestrian message: 'Look Up, Look Out' – for both pedestrians and drivers. Even if you are not taking advantage of the opportunity to borrow a reflective vest, be sure to stay visible during evening hours – on Halloween and every night," Maryland State Highway Administrator Gregory Johnson, P.E. said. "With the upcoming time change, we want to make sure that drivers and pedestrians are following the rules of the road and looking out for each other," he said.
You can pick up a vest at the following locations in Montgomery County:
Fairland Shop 12020 Plumorchard Drive Silver Spring, MD 20904 301.572.5166
Gaithersburg Shop 502 Quince Orchard Road Gaithersburg, MD 20760 301.948.2477
SHA also released the following safety tips for motorists and pedestrians.
For Motorists:
• Stop for pedestrians – Maryland law requires motorists to stop for pedestrians in marked crosswalks and intersections.
• Stay alert – Don't use your phone while driving.
• Obey the speed limit. Speeding only makes it more difficult to stop unexpectedly.
• Motorists should be more cautious during peak trick-or-treating hours between 4 and 9 p.m.
• Enter and exit driveways slowly. Use caution when turning at intersections.
• Be alert for children darting across the street and crossing between parked cars.
• When driving children to and from different activities, make sure all seat belts are fastened and let children out of the car on the curbside.
• Never drink and drive. Designate a sober driver or take a taxi/ride service.
For Pedestrians:
• Look left, right, and left again before crossing the street.
• Cross at crosswalks or intersections.
• Be sure to see and be seen. Avoid dark clothing. Instead wear bright colors and use reflective devices such as vests and blinking lights.
• Avoid costumes that may impair vision.
• Make eye contact with drivers when crossing the street.
• Stay alert and be on the lookout for cars traveling above the speed limit.