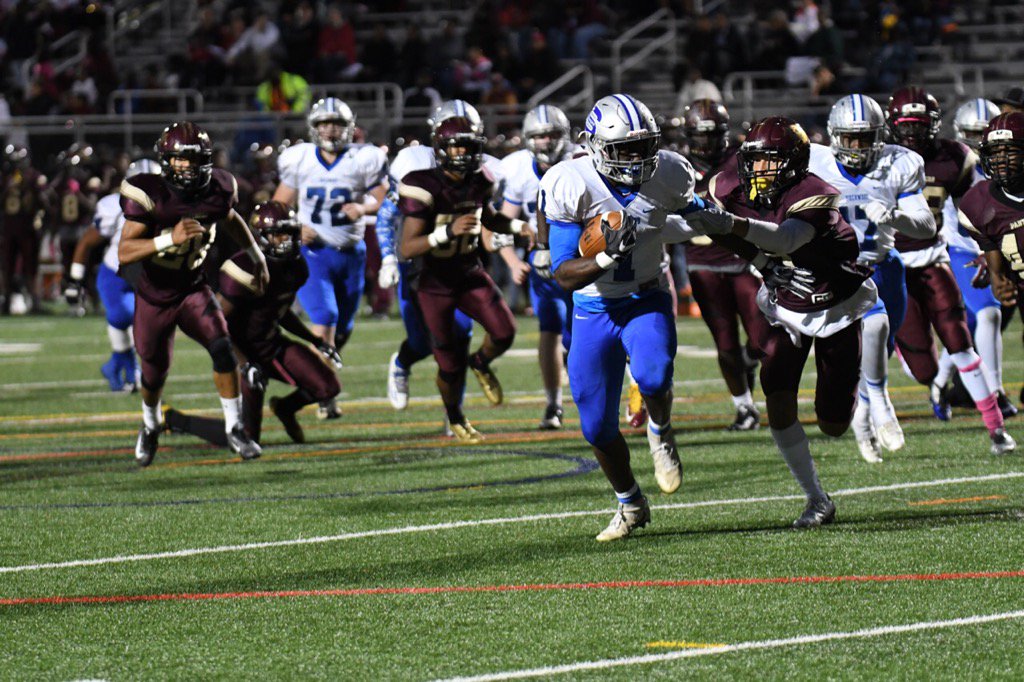 Sherwood Remains Undefeated with 27-20 Win Over Paint Branch (PHOTOS)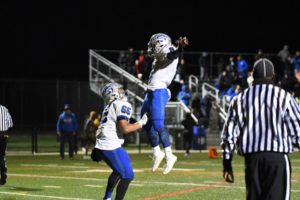 For a while, it looked like an upset might be in the making.
After falling behind by two touchdowns, the undefeated Sherwood Warriors rallied back and held off the Paint Branch Panthers, 27-20, in Burtonsville on Friday night under the lights.
It was interceptions in the second half that made a big difference for the Warriors.
It's the eighth win in a row for Sherwood.
Next week, Sherwood plays at home in Sandy Spring against the Kennedy Cavaliers while the Panthers are on the road against Northwood.
PHOTOS | Phil Fabrizio
@WarriorResults seal the win against Paint Branch with an end zone interception! #SHERWOOD… https://t.co/35KySxOG2L

— doorBella (Rose) (@doorBellaRose) October 22, 2016
Game ends with Sherwood interception in the end zone to win 27-20 over Paint Branch @mymcmedia @allmetsports pic.twitter.com/hZqHcyhykv

— Phil Fabrizio (@Photoloaf) October 22, 2016
Sherwood goes 19 yds and scores in a QB sneak. Sherwood leads 27-20 with 1:38 left. @mymcmedia pic.twitter.com/DGTLFvOS2r

— Phil Fabrizio (@Photoloaf) October 22, 2016
Tie game Sherwood scores on a 10 yd pass goal post. 20 all. Sherwood just intercepts ball on the 19 @mymcmedia

— Phil Fabrizio (@Photoloaf) October 22, 2016
Sherwood intercepts ball is now on PB 21 with 8:37 left in the game. @mymcmedia pic.twitter.com/zflpL5LgWU

— Phil Fabrizio (@Photoloaf) October 22, 2016
Mbony scores as the 3rd QTR ends making it 20-14 Paint Branch over Sherwood @mymcmedia pic.twitter.com/4CeemteO07

— Phil Fabrizio (@Photoloaf) October 22, 2016
Upset in the making. Guerrero 25 yd pass to Mohammed failed XP puts Paint Branch up 20-7 over Sherwood @mymcmedia pic.twitter.com/PBfVldxJVm

— Phil Fabrizio (@Photoloaf) October 22, 2016
At the half it's Paint Branch 14 Sherwood 7 @mymcmedia pic.twitter.com/W2azedZzG5

— Phil Fabrizio (@Photoloaf) October 21, 2016
Guerrero celebrates after being pushed out of the pocket throws a 75 yd TD pass. PB 14 Sherwood 7 @mymcmedia pic.twitter.com/stuN1h9FfS

— Phil Fabrizio (@Photoloaf) October 21, 2016
End of 1 it's Sherwood 7 PB 6 @mymcmedia pic.twitter.com/b4wQMRuiM6

— Phil Fabrizio (@Photoloaf) October 21, 2016
End of 1 it's Sherwood 7 PB 6 @mymcmedia pic.twitter.com/b4wQMRuiM6

— Phil Fabrizio (@Photoloaf) October 21, 2016
Travis Levy for the score Sherwood up 7-0 in the first. @mymcmedia pic.twitter.com/bq5FXutYDV

— Phil Fabrizio (@Photoloaf) October 21, 2016
Senior Night at Paint Branch as they take on Undefeated Sherwood. It's FNL on @mymcmedia @PBfootball2012 pic.twitter.com/d0LOKXddFp

— Phil Fabrizio (@Photoloaf) October 21, 2016