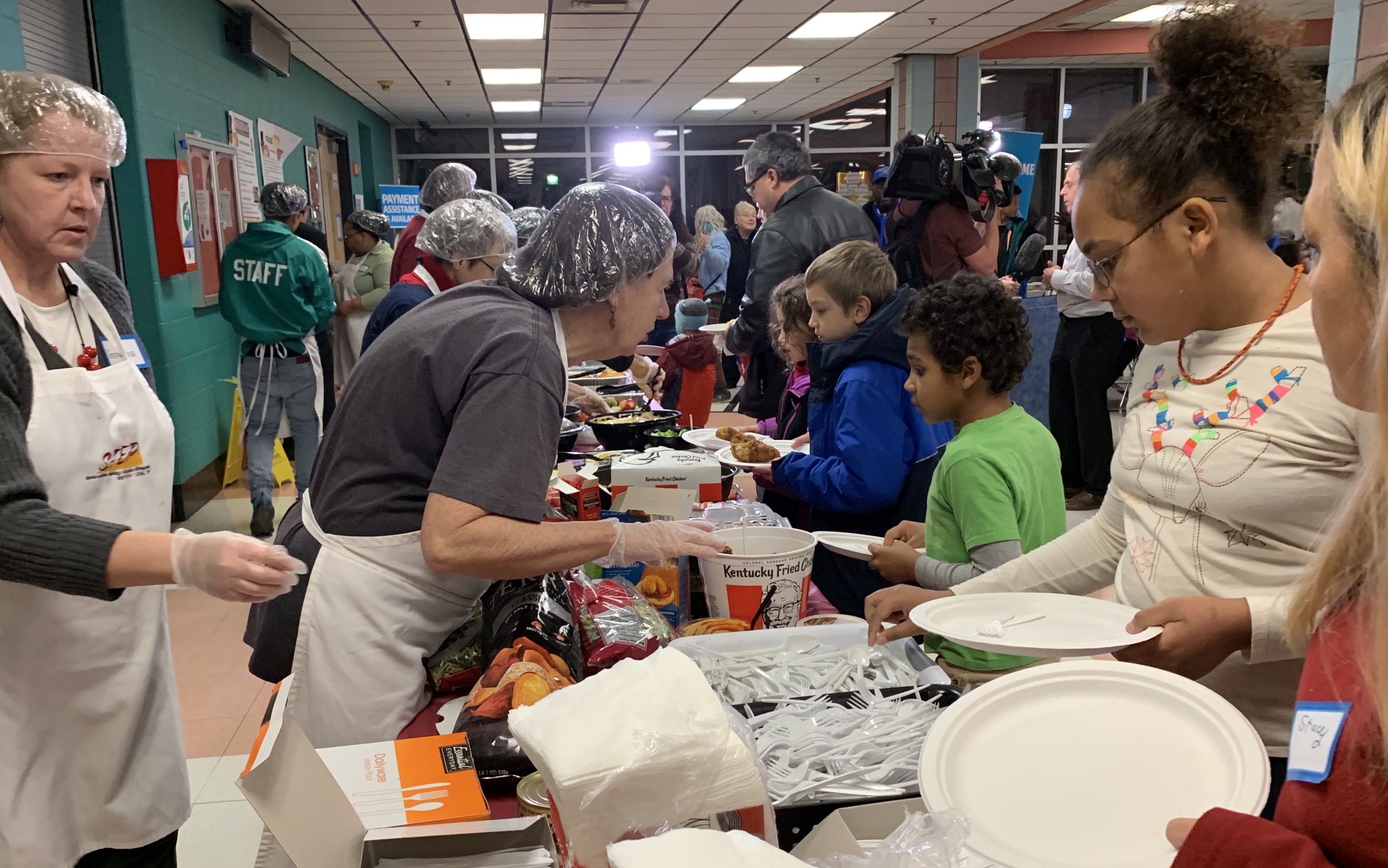 'Shutdown Social' Provides Meals for Furloughed Feds at Blair HS
To Montgomery County Councilmember Tom Hucker, federal employees are the "collateral damage" in the battle between President Trump and Congress over a border wall between the United States and Mexico.
With the furlough starting its 21st day, Hucker's office organized the "Shutdown Social" where the hundreds of furloughed feds gathered at the cafeteria at Montgomery Blair High School to enjoy food provided by Silver Spring and Takoma Park restaurants.
"They are saving all their money. They can't go out to dinner. They can't go to the movies. They're eating all the fish sticks at the bottom of the freezer. And they don't know when it's going to end," Hucker said.
Friday would have been payday for federal workers.
U.S. Sen. Chris Van Hollen also arrived, noting that the House has passed legislation that the Senate has previously passed. The bills are waiting for a vote in the Senate.
"Let democracy work," Van Hollen said.
Senate Majority Leader Mitchell McConnell is in Kentucky for the weekend. Van Hollen called him an "accomplice" to the shutdown.
Alison Gillespie of Silver Spring is a science writer who has worked at the National Institute of Standards and Technology for two years.
"I can't go without a paycheck. Paycheck comes in. Paycheck goes out," Gillespie said. She's better off than some because her husband isn't a federal employee. "I think we'll be all right for the short term."
But she said she worries about "her community." The parents who still have to pay for daycare. She worries about the janitors and the "nice lady who sells me coffee." And she worries about the restaurants around NIST's Gaithersburg campus where employees would eat lunch.
"They're all small businesses and their margins must be tight. I hope they're OK," Gillespie said.
Agency representatives manned tables describing the programs they offered, including the Washington Suburban Sanitary Commission, Pepco and the  Montgomery County Department of Health and Human Services.
"Depending on a federal worker's salary, they may not be eligible for our services. … but we want them to be aware of the programs," health department spokeswoman Mary Anderson said.
Organizers couldn't provide an estimate on the crowd, but 600 people sent RSVPs to Hucker's office.
Hucker said the county's Recreation Department is also offering free use of pools and reduced summer camp fees. The county's Housing Department and the Consumer Law Center had representatives.
Julie Nassif of Silver Spring isn't a federal employee, but she's a former state employee; not Maryland, she added.
"I wanted to support the federal employees. As a former state employee, I know what it feels like to be underappreciated," Nassif said.
Karen Metchis of Bethesda has worked for the Environmental Protection Agency for 27 years. She received a half paycheck Friday because of leftover money saved from 2018. It will be her last paycheck unless sides reconcile the impasse.
Metchis mentioned the anxiety she's feeling from the uncertainty. She has a daughter in college, who hasn't had to take out a loan but that could change.
She also worries about the work that doesn't get done. Metchis works on a project that helps communities respond to extreme weather.
Helen Heinrich of Silver Spring works for the General Services Administration, her first federal job. She said she talked to her landlord
"He gave me a cookie and said we'll figure something out in February," she said.