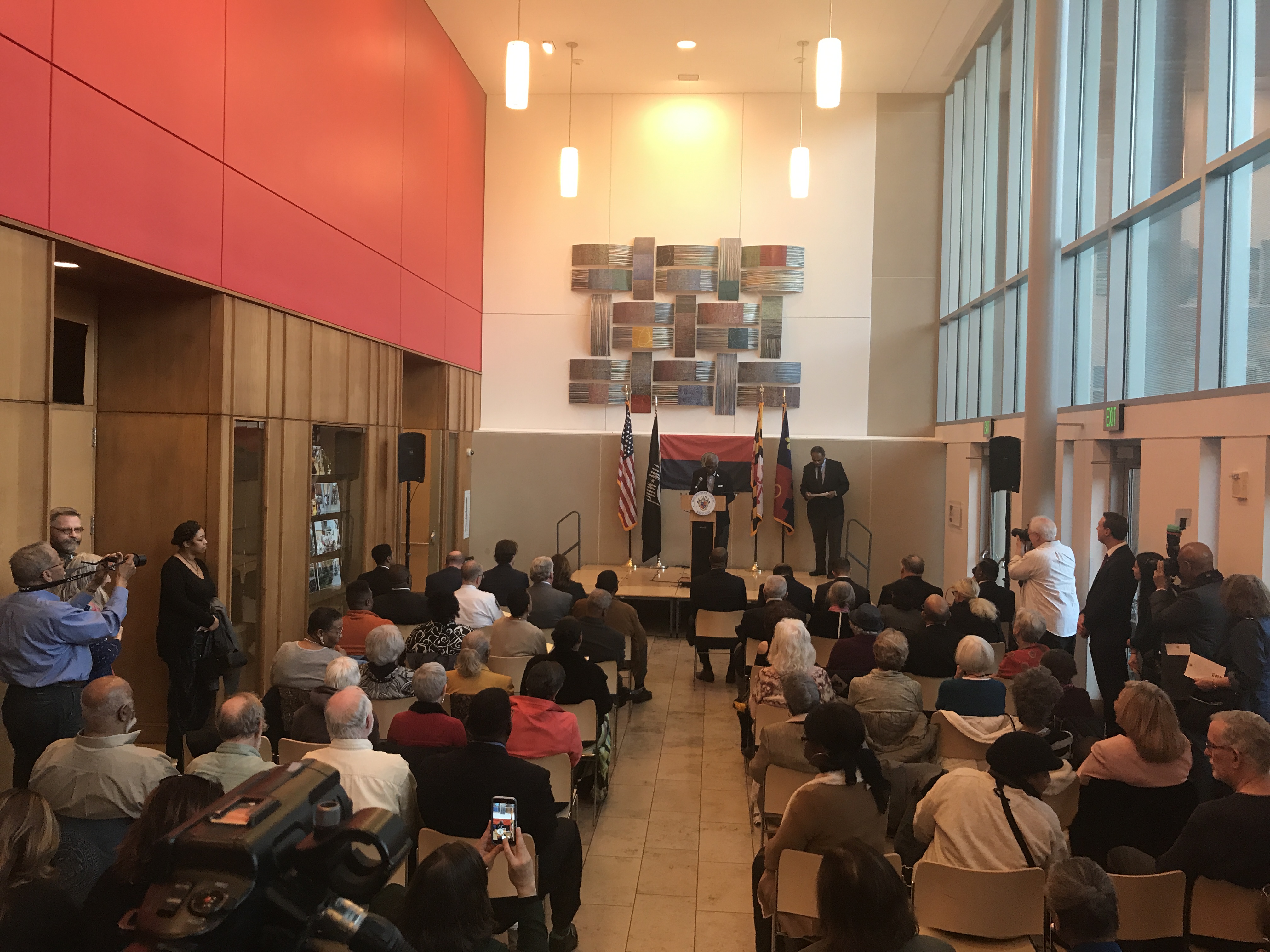 Silver Spring Civic Center's Great Hall Renamed to honor Buffalo Soldiers
Montgomery County Executive Ike Leggett joined community leaders and residents at Veterans Plaza in Silver Spring to honor the Buffalo Soldiers by renaming the Great Hall to "The Buffalo Soldiers Great Hall" to pay tribute to their contributions to the nation.
The Buffalo Soldiers were formed after Congress passed legislation in the 1860s that allowed African Americans to enlist in the United States Military.
"It is my honor to dedicate this Great Hall in the Silver Spring Civic Building in honor of the Buffalo Soldiers," Leggett said. "The Buffalo Soldiers served with honor and courage in a time when they were subject to discrimination in their own land."
A special tribute was held in honor of the 92nd Infantry Buffalo Soldiers, a segregated unit of African Americans, during World War II.
Leggett along with Montgomery County Councilmembers and Maryland State Senator Will Smith (D-20) recognized longtime Silver Spring resident James Harden Daugherty, who passed away in 2015 at the age of 91.
During World War II, Daugherty served as a soldier in the Army's 92nd Infantry Division.
"I had a chance to meet James Daugherty and I was so taken back by him, his life story and his commitment to Silver Spring," Smith said. "When he passed away in 2015, I wanted to do something and working with the county executive, we came up with this way to honor him and remember him right here in Veterans Plaza."
Here at Veterans Plaza in Silver Spring for the renaming ceremony of the Great Hall to "The Buffalo Soldiers Great Hall." @mymcmedia pic.twitter.com/TyQeIGNw0y

— Mitti Hicks (@MittiMegan) February 27, 2018
Here's the agenda @mymcmedia pic.twitter.com/wg5bpts8uX

— Mitti Hicks (@MittiMegan) February 27, 2018
Speaking now @Willcsmithjr @mymcmedia pic.twitter.com/oQoVobCOLS

— Mitti Hicks (@MittiMegan) February 27, 2018
"Before there was Black Panther there were Buffalo Soldiers." –#MoCo Executive Ike Leggett @mymcmedia pic.twitter.com/pPz0LAcf4a

— Mitti Hicks (@MittiMegan) February 27, 2018