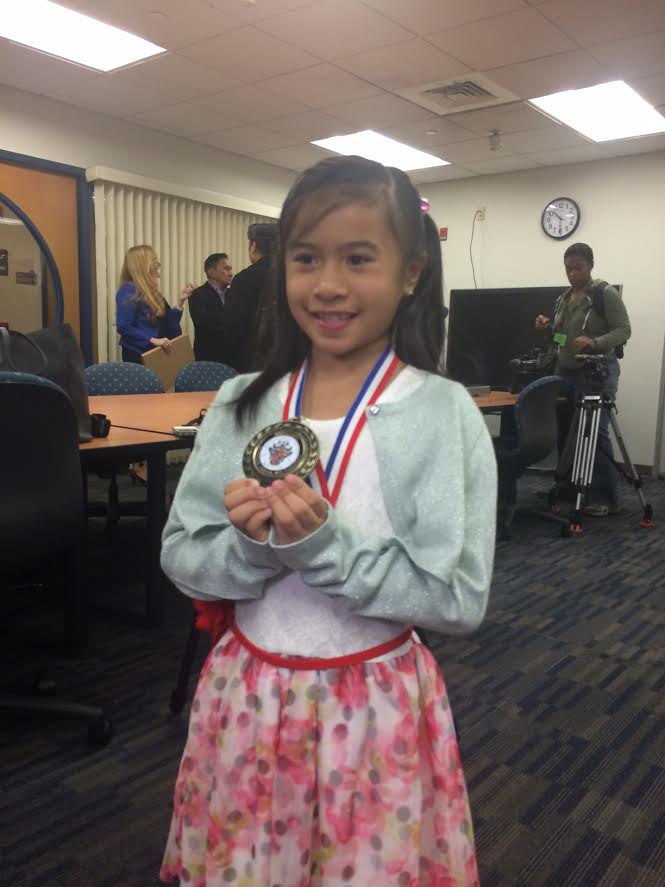 Silver Spring Girl Hailed as "Everyday Hero" After Saving Father's Life (VIDEO & PHOTOS)
UPDATED A seven-year-old Silver Spring girl is being hailed a hero after she called 911 and saved her father's life.
At a ceremony today, at a Emergency Communications facility in Gaithersburg, Jenna Viloria received the "Everyday Hero Award" from the Montgomery County Fire and Rescue Services Department.
The department is recognizing Jenna for her actions on February 28, when her father collapsed from a diabetic seizure.
In this MyMCMedia Extra video, Jenna describes the day of the call.
Instead of panicking, Jenna stayed calm and called her mother.
"She called me around 11 a.m. and she told me that mom, dad is having low blood sugar," Michele Viloria said. "I told her not to panic be calm, I'm going to call 911."
While Michele Viloria was in the middle of talking to dispatchers, they notified her that Jenna had already called in. "The dispatcher told me…'Your daughter is on the other line and she's doing great," Michele Viloria said.
Jenna's quick thinking saved her father's life. Jenna was on the phone with dispatcher, Amanda Poore, until helped arrived.
"When she was giving me the address, I learned that she was very smart, I figured that I could use the medical aspect…she was monitoring her dad, we used a breathing diagnostic, which she did excellently. She made sure the door was unlocked. It was a soothing conversation but at the same time it was very frantic because I knew her dad needed help immediately and she knew too," Poore said.
You can listen to the 911 call, below.
Jenna met Poore at the ceremony and was given a tour of the facility.
Fire and Rescue officials say that Jenna's actions are good reminder that it's never to early to teach kids the importance of calling 911 during an emergency. "Teach your children their address, their phone number, and how important 911 is and what we can do to help them in an emergency," Poore said.
Fire Chief Goldstein chatting with the young lady of the hour prior to event pic.twitter.com/Ss90tbYmnx

— MCFRSNews (@MCFRSNews) March 30, 2016