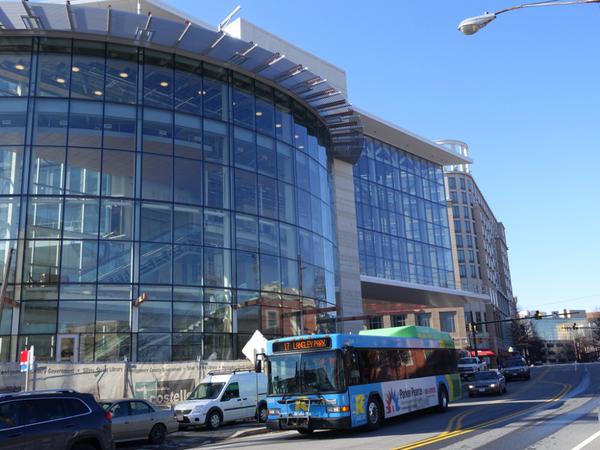 Silver Spring Library Earns LEED Gold Certification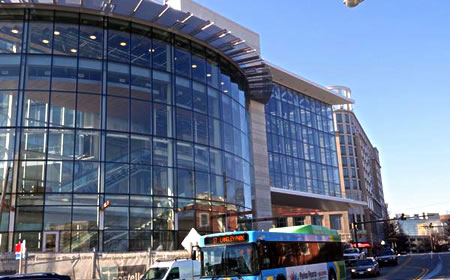 The U.S. Green Building Council has awarded Montgomery County Public Libraries' Silver Spring branch with its Leadership in Energy and Environmental Design (LEED) gold certification.
"We are proud of our Silver Spring Library," Parker Hamilton, director of Montgomery County Public Libraries, said. "Not only does our library provide a flexible and adaptable space to connect our residents with ideas and information, it is also a model for environmental sustainability for our present and future generations," Hamilton said.
According to a news release, the library building has energy-saving features including; a vegetated roof, water efficient toilets and sinks,  bicycle storage, and a design that allows natural light throughout the inside of the building. The building, designed by architectural firm The Lukmire Partnership, Inc. and built by Costello Construction of Maryland, is also the County's first three-story urban library.
"LEED Gold certification for the Silver Spring Library underscores the Department of General Services commitment to delivering environmentally responsible facilities," David Dise, director of the Department of General Services, said. "The prominent location in downtown Silver Spring showcases our efforts to present an aesthetically striking library that is also functional and energy efficient," Dise said.
The news release states that the Silver Spring Library is the eighth LEED gold certified building in Montgomery County. The Animal Services and Adoption Center, Equipment Maintenance and Transit Operations Center, Gaithersburg Library, Judicial Center Annex, Olney Library, Scotland Neighborhood Recreation Center, and White Oak Community Recreation Center are also LEED gold certified.
The U.S. Green Building Council (USGBC) uses the following criteria to identify buildings eligible for LEED certification; site design, water efficiency, energy efficiency, materials and resources, and indoor environmental quality.
To learn more about Silver Spring Library, visit the Montgomery County Public Libraries website.