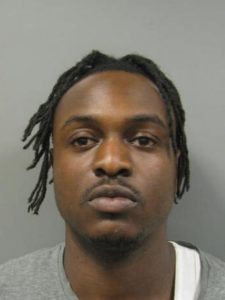 Silver Spring Man Arrested, Faces Charges From 2017 Rape
A Silver Spring man is behind bars and facing charges for a rape that occurred in 2017.
Detectives from the Montgomery County Police Department say 26-year-old Victor Jamar Killen has been charged for the 2017 first-degree rape, assault, and kidnapping of an adult female victim.
An investigation revealed that in December of 2017, two suspects entered a vehicle with a female passenger inside. The press release goes on to say that one of the suspects pointed a weapon at the victim and she was then driven to an unknown location in Montgomery County where she was forced from the car, and raped. Shortly after, the victim was dropped off near a shopping center in an unknown area of Silver Spring where she later contacted police.
During an investigation, the suspect's DNA was recovered as evidence and entered into a national law enforcement DNA database. Police say the rape kit with was submitted for analysis in March 2018.  Authorities added that it can take time for the kit to be given to MCP by the hospital because each kit undergoes a peer review by the forensic team at the hospital. Once the Montgomery County Police received the kit, they submitted it for testing. Police say the testing process can take some time.
In January of 2019, detectives were notified that the suspects DNA entered matched Killen's DNA, and a warrant was issued for his arrest.
On Sunday, May 12, Montgomery County police detectives were notified by officers from the Maryland Transportation Authority Police Department that Killen had been arrested an outstanding warrant following a traffic stop at Baltimore/Washington International Thurgood Marshall Airport (BWI).
Killen was transported to the Central Processing Facility where he is currently being held without bond.
This remains an ongoing investigation, and detectives continue to work to identify any additional suspects.