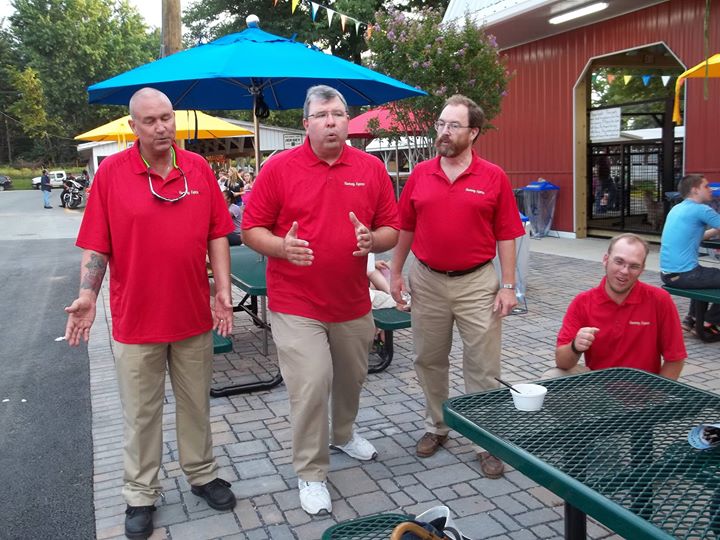 Singing Valentines
It's too late this year, of course, but how about a Singing Valentine for your significant other in 2015?
The Harmony Express Chorus doesn't just provide great entertainment through its annual show—Sept. 13 at Leisure World—and its performances around the county.  We also offer other services to area residents.  Singing Valentines is one of them.
The scene: a dark night.  Snowed all day yesterday, and now it's 2 feet deep where the plow went through.  The streets are bumpy with slush and slick with black ice.  The bass of our Singing Valentines quartet and I are parked in Frank's driveway.  Frank has ordered a Singing Valentine for his wife.  It's 6:20 p.m. and we're supposed to deliver by 6:30 p.m.  I dial; Frank answers.  "Frank, half a quartet is sitting in front of your driveway.  The other half is on its way, I hope."  "We're waiting," he says.
Just as the call ends, a car appears.  It's them—the tenor and lead.  We warm up next to a snow bank, inch our way up the sidewalk and into the house.  We give the lady a dozen roses and sing "Let Me Call Your Sweetheart."  Very sweet.   We give the lady a card and sing "Heart of My Heart."  She seems pleased.  I ask whether she's Irish.  She says, "Maybe a little on my mother's side."  Good enough: we sing "My Wild Irish Rose" and give her a box of chocolates.  Soon we're on our way.
The lady at the next stop is Czech.  We sing, "My Wild Irish Rose" anyway.
And so it goes with Singing Valentines.  They really are a lot of fun, both for us and the people we touch.  We deliver to homes and offices, take photos to send the honorees and to post on our website, and generally bring some (usually unexpected) Valentine cheer.  Want to impress that special Her or Him?  Next January, go to "harmony-express.org" and order a Singing Valentine.   It couldn't snow two years in a row!