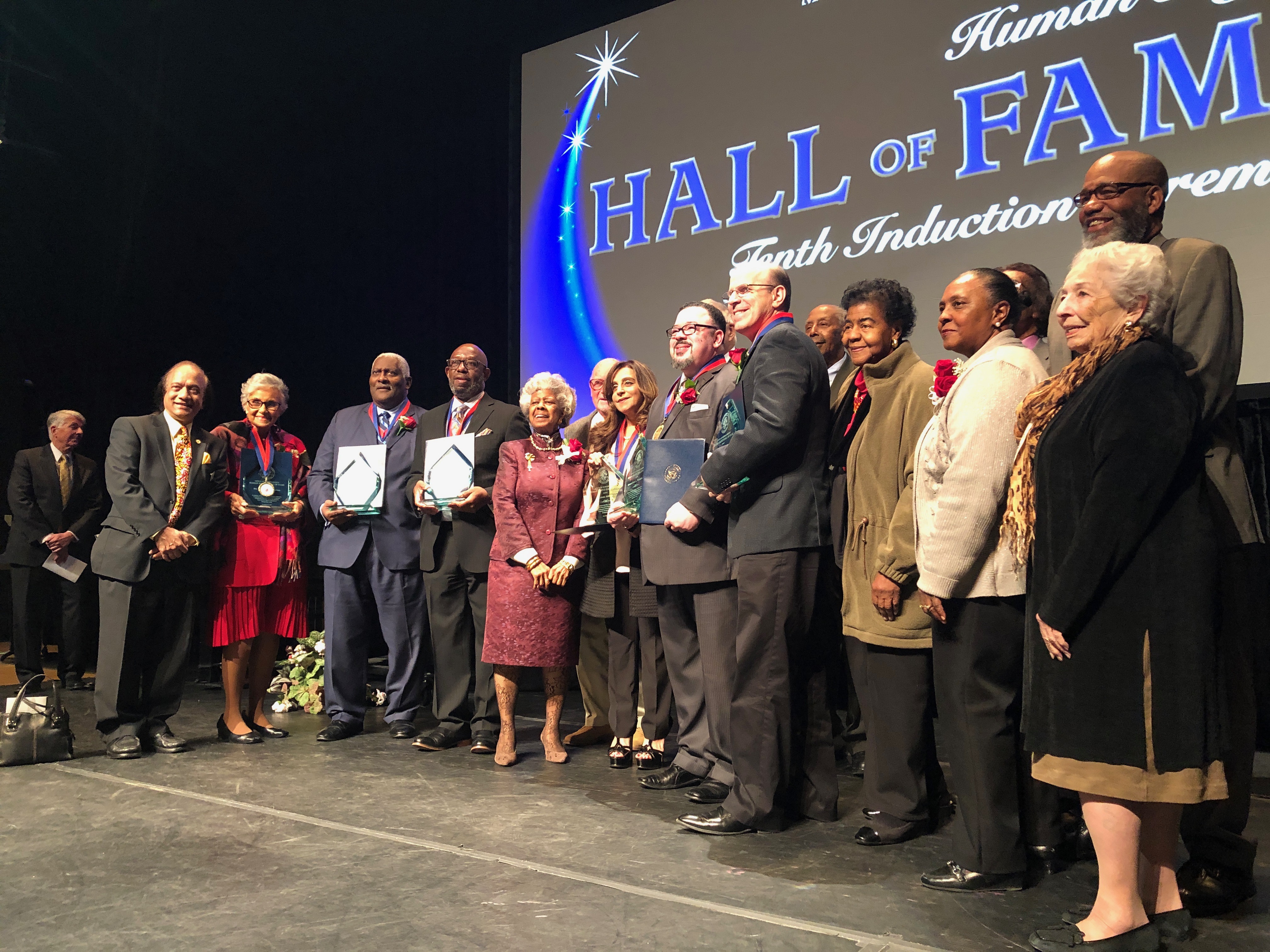 Six Honorees Inducted Into Montgomery County's Human Rights Hall of Fame
Montgomery County's Department of Human Rights inducted six new honorees into the Human Rights Hall of Fame at the BlackRock Center for the Arts in Germantown. Indeed, the award recognizes individuals who made sacrifices to combat discrimination and promote inclusion.
The theme for this years celebration was "Diversity is Working For Our County." The inductees into the hall of fame were the following:
Tufail Ahmed of Potomac, who founded the Montgomery County Muslim Council and co-founded the Montgomery County Muslim Foundation. Though Ahmed did not attend the ceremony, he was honored for his efforts to help senior citizens and homeless residents.
Mark Bergel of Bethesda, the founder and CEO of A Wider Circle. A Wider Circle aims to end poverty. Since 2001, the organization has served over 225,000 people.
Dr. Marylin Hughes Gaston of Potomac, whose career revolved around improving access to medical care for marginalized individuals. To this day, she works to fight sick cell disease.
Reverend Kenneth Nelson of Silver Spring, who serves as Montgomery College's Workforce Development and Continuing Education Unit's director of business and community outreach. Nelson has provided life-changing initiatives to improve personal and professional opportunities for individuals.
Dr. DeVance Walker Jr. of Olney, who served as the first minority liaison for a Montgomery County Executive. He's also provided a lot of help to improve education.
Bishop Paul Walker Sr. of Clarksburg, who is the founder and pastor of Healing and Deliverance Ministry. He also has helped provide life skills, professional development, and self-help programs to groups.
The event featured music, spoken words, and tributes to individuals who've made significant contributions to the county. Check out highlights and recaps from the event below.
Video Highlights:
County Executive Ike Leggett and OHR Director John Stowe pay tribute to the nights honorees. Plus, interviews with winners Mark Bergel and Dr. Marylin Hughes Gaston.
Recap of the Event in Tweets
The Human Rights Hall of Fame honors individuals who've made major contributions fighting for human and civil rights in @MontgomeryCoMD. pic.twitter.com/r2mC7wcmXF

— Deirdre Byrne (@DeirdreByrneMCM) November 30, 2018
@MoCoCouncilMD president @hansriemer talks at the induction ceremony about how the discourse at the national level promotes division, but despite it seeming like progress for diversity is being lost, hope shouldn't be lost. He thinks the people honored tonight can give us hope. pic.twitter.com/rkvy4hjFSW

— Deirdre Byrne (@DeirdreByrneMCM) November 30, 2018
These are the six Montgomery County residents being honored tonight. #MontgomeryCountyHumanRightsHallOfFame pic.twitter.com/1yoHJ7kW08

— Deirdre Byrne (@DeirdreByrneMCM) November 30, 2018
Jackie Simon honors the late Silvia Rodriguez who was inducted in the Hall of Fame in 2001.

"Silvia was a leader of leaders," said Simon. She spent her life fighting for equality and fair housing laws. pic.twitter.com/lZdtU7xI33

— Deirdre Byrne (@DeirdreByrneMCM) November 30, 2018
The first award being presented tonight is for Tufail Ahmed. He's not here tonight but he's dedicated to working with the Montgomery County Muslim Foundation.

"You have to be selfless," he said on video. "I have to do whatever we do honestly and sincerely." pic.twitter.com/y6TqBGqf8a

— Deirdre Byrne (@DeirdreByrneMCM) November 30, 2018
Ahmed hopes to do more work for education in Montgomery County and has been inspired by County Executive Ike Leggett's work.

— Deirdre Byrne (@DeirdreByrneMCM) November 30, 2018
"Family doesn't stop at the front door," said Bergel. "We need to give our love in a limitless and boundless fashion."

— Deirdre Byrne (@DeirdreByrneMCM) November 30, 2018
Dr. Bergel accepts his award. pic.twitter.com/4i1IRT3132

— Deirdre Byrne (@DeirdreByrneMCM) November 30, 2018
"I'm trying really hard to encourage children to go into science," said Gaston. She feels there's still a lot to do to promote diversity in healthcare.

— Deirdre Byrne (@DeirdreByrneMCM) November 30, 2018
Dr. Gaston accepts her award. pic.twitter.com/rdQVBA7qp0

— Deirdre Byrne (@DeirdreByrneMCM) November 30, 2018
"I'm proud of working with the youth," said Nelson. He does a lot of work with the scouts and has helped collect over 30,000 pounds for food for charity.

— Deirdre Byrne (@DeirdreByrneMCM) November 30, 2018
"If you're going to be a leader, lead with integrity [and] follow with humility," said Nelson. pic.twitter.com/lGjOVloFjN

— Deirdre Byrne (@DeirdreByrneMCM) November 30, 2018
"I'm trying really hard to encourage children to go into science," said Gaston. She feels there's still a lot to do to promote diversity in healthcare.

— Deirdre Byrne (@DeirdreByrneMCM) November 30, 2018
Dr. Gaston accepts her award. pic.twitter.com/rdQVBA7qp0

— Deirdre Byrne (@DeirdreByrneMCM) November 30, 2018
"I've come from a predominantly black community to one that's more diverse [and I have an appreciation for this diversity,]" said Walker.

Walker learned to value education from his late mother, and he appreciates living in a county where educators confront racial injustices.

— Deirdre Byrne (@DeirdreByrneMCM) November 30, 2018
Our next honoree is Bishop Paul L. Walker Sr.

"Love to live, and live to love" is his life motto. pic.twitter.com/lSaCHpmMPO

— Deirdre Byrne (@DeirdreByrneMCM) November 30, 2018
Bishop Walker is most "proud of the team who so tirelessly and effortlessly" work with them. He specifically mentions his wife for making him the man he is today.

— Deirdre Byrne (@DeirdreByrneMCM) November 30, 2018
Bishop Walker says if we are reaching for the stars, then we should want our fellow man to reach the stars as well.

— Deirdre Byrne (@DeirdreByrneMCM) November 30, 2018
All six of @MontgomeryCoMD's new Human Rights Hall of Fame Inductees stand with their awards. pic.twitter.com/ph1O777d2j

— Deirdre Byrne (@DeirdreByrneMCM) November 30, 2018
Now a group shot of all of the people present at the ceremony who have been honored into @MontgomeryCoMD's Human Rights Hall of Fame pose for a picture. pic.twitter.com/6J08QZDEzt

— Deirdre Byrne (@DeirdreByrneMCM) November 30, 2018
Photos From The Event