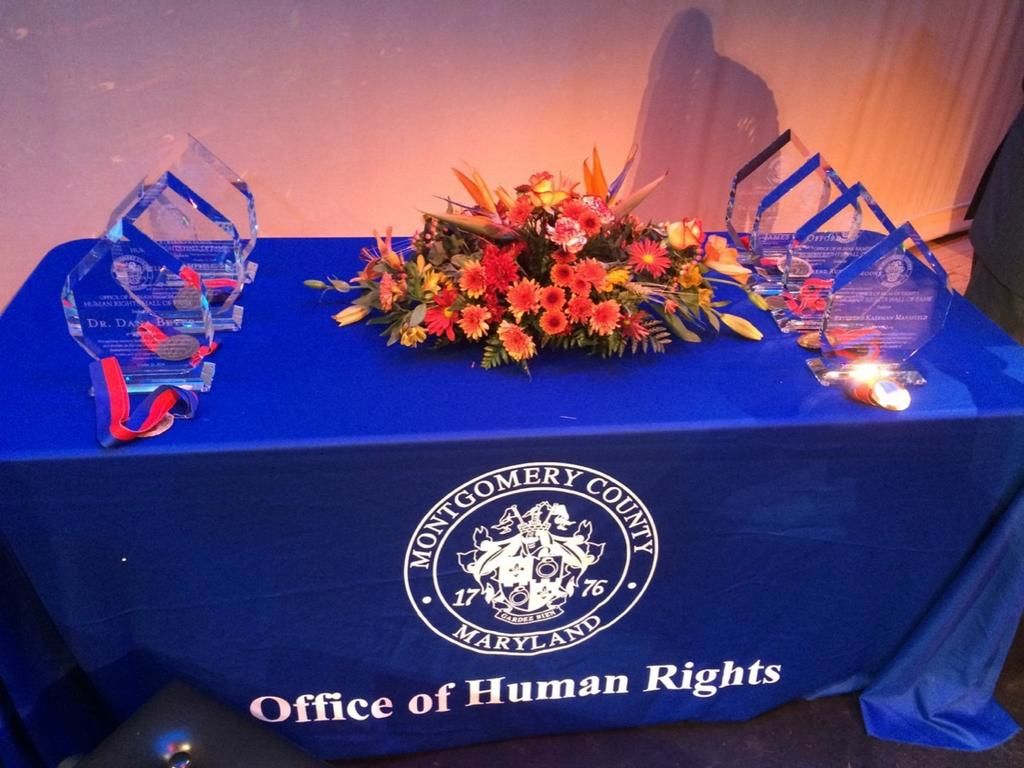 Six Residents to be Inducted into Human Rights Hall of Fame
Recognized for their visionary leadership, achievements and their efforts to eliminate discrimination, six residents will be inducted to the 2018 Human Rights Hall of Fame by the Montgomery County Office of Human Rights at a reception on Nov. 29.
The theme for this year's event is Diversity is Working for Our County.
The event, which is free and open to the public, will be held at the BlackRock Center for the Arts, 12901 Town Commons Drive in Germantown. The program and reception is scheduled for Thursday, Nov. 29 from 7 to 10 p.m. Reservations for free tickets for this program are available here.
The following individuals will be inducted this year:
• Tufail Ahmad (Potomac) – Founded the Montgomery County Muslim Council and co-founded the Montgomery County Muslim Foundation, which are organizations that support the Muslim community. Ahmad spearheads multiple initiatives to assist needy residents such as feeding the homeless, coordinating food drives for local food pantries, providing meals and distributing supplies to deserving families. He engages and integrates seniors into the community through his work with a senior transportation initiative.
• Mark Bergel (Bethesda) – Founder, President & CEO of A Wider Circle, a nonprofit organization founded in 2001. A Wider Circle's mission is to end poverty by inspiring, fostering, and measuring individual and community-level change. A Wider Circle provides basic need items, long-term support, and comprehensive neighborhood programming. To date, the organization has served more than 225,000 people and hosted more than 30,000 volunteers yearly.
• Dr. Marilyn Hughes Gaston (Potomac) – Gaston dedicated her career to improving medical care for poor and minority families and to the promotion of health care equity for all Americans. Internationally recognized for her leadership, she continues to combat sickle cell disease and changes in management of children with this illness to significantly decrease suffering and mortality in the world, including Maryland. She is the first African American women to direct a public health service bureau. Gaston is a volunteer of the Montgomery County African American Health Program Advisory Committee and a faculty member of the Johns Hopkins School of Public Health. She is also a member of the Institute of Medicine of the National Academy of Sciences and currently codirects the Gaston and Porter Health Improvement Center in Potomac, a nonprofit service organization, which helps close the gap of health disparities despite race, ethnicity, gender, culture and socioeconomic status.
• Reverend Kenneth Nelson (Silver Spring) – Director of business and community outreach for more than twenty years at Montgomery College's Workforce Development and Continuing Education Unit. He is the Senior Pastor of Seneca Creek Community Church. He advances personal and professional improvement for people and communities by supporting and achieving life-changing initiatives through his volunteer service with groups such as the American Heart Association, Prison Fellowship, Montgomery Hospice, and many other organizations.
• Dr. DeVance Walker Jr. – (Olney) – Walker worked as the first minority liaison to a Montgomery County Executive and has served as a liaison for former County Executives Doug Duncan, Charles W. Gilchrist and Sid Kramer. As a chairman of the Education Committee for Montgomery County Alpha Phi Alpha Fraternity he initiated a youth award program to recognize students from Montgomery County schools.
• Bishop Paul Walker Sr. (Clarksburg) – Founder and Pastor of Healing and Deliverance Ministry where the mission is to bring emotional, spiritual, physical and mental healing to all people. Walker is also the Creator, Founder, and Executive Director of the "Healing Yourself Outreach Life Skills Program, which provides professional development opportunities, leadership skills, certifications, apprenticeships, career portfolios, interviewing skills, character education, and links to self-help community agencies.