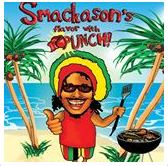 Smackason's – Some Like it Hot!
One of the benefits of volunteering at the recent Metro DC Cooking Show was visiting the vendor tables after my volunteer shift concluded.  Two colleagues and I weaved our way through the aisles stopping at various tables to sample items. We were just about to leave when I saw the table showcasing  Smackason's pepper sauce. As I approached table, one of the Smackason team members introduced me Smackason's Ghost Pepper sauce. The pepper sauce had lots of heat and a lingering finish (ghost peppers are considered some of the world's hottest peppers, rating 855,000-2, 199,999 Scoville heat units) . I purchased a bottle and dropped my business card for a weekly prize drawing.  Approximately a week I received an email informing me that I was the winner of a prize drawing and it was being mailed to me.  I responded with a thank  you note and asked Mr. Reginald Knight,  Chief Executive Officer of Smackason if he would grant me an interview. He agreed; below is his story.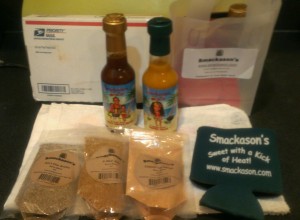 Q1:  Tell me a little about yourself. How did you get started?
A1: Thank you Techdinegirl. My name is Reginald Knight, originally from Atlanta Georgia. I am a 20 year US Army veteran with a Business Administration Degree from the University of South Carolina. I'm married to my wife Darlene and have 3 kids, Isaac (12), Prince (9), and Jamya (7). I started Smackason's Caribbean Pepper Sauces basically because of bland barbecue. I went to a neighborhood cookout that had some beautiful cuts of meat but not well seasoned. We had to attend another event a month later so I came prepared by cooking up some of the flavors and tastes I remembered while vacationing annually in the US Virgin Islands over a 12 year period. I brought a large pot of my original sauce  to slather on my meat, others tried it and suggested I bottle it. I waited for about six months before I contacted a local co-packer in April of 2013. The first bottles were produced 3 weeks later and we have been going for it ever since. We started with only one sauce (St. Croix Style Pepper Sauce) but now have two more (St. John's Style Pepper Sauce and St. Thomas Style Pepper Sauce) and three all natural spice blends that are mild, medium and Caribbean Jerk hot. The name Smackason's actually came from my oldest son Isaac. He loves video games and I created a wresting avatar one rainy Saturday morning playing with him. ( I still use "Dad Smackason" when I play that game with him"). Several weeks later at dinner he blurted out "Dad if you ever open a restaurant you should name it Smackason's". I Googled the name and discovered it did not exist. I copyrighted it and found it the natural choice for our business.
Q2: Who or what has been the greatest influence on your business?
A2: Well I guess the biggest influence is my dad Jimmie Knight, who died in 2007. My mother did not cook but my dad sure did. I still have very strong memories of him baking pies, cakes, and glazing hams over the holidays. Also my children. My wife and I are striving to build this business so they can have a ready made career should they choose to continue what we have started.
Q3: What advice do you have for someone who wants to go into the business?
A3: If you have an idea do as much research BEFORE spending money. Get as much information as possible concerning state and federal law and of course the costs of developing your idea. I thought about starting a European Bakery and a French Bistro years before deciding on Caribbean Pepper Sauces. My research indicated it was an idea that was ripe for development. Right now specialty sauces are the 7th fastest growing business sector in the US (1.7 Billion dollars in 2013). Second, be prepared for disappointment, rejection, and flat out hater-aid when you do get going. Ignore it. Focus on what's most important; the quality of your goods or services and customer service. If your idea is sound it will weather the inevitable storms.
Q4: What would you like the public to know about your business?
A4: That our products are low-calorie, all natural, gluten free, and devoid of preservatives or excessive amounts of sodium. We offer delicious clean products to your family because we fed them to our children first. We will never cut corners on quality and work hard to make sure you get value and utility for your money.
Q5: Where do you see yourself five (5) years from now?
A5: I see myself sitting down at restaurants in New York, Atlanta, Chicago and Los Angeles. As I order from the menu I look at the condiments and see Smackason products adorning each table and booth! I order my meal and continue spreading our brand and goods internationally.
Thank you for your time . I wish you success with your products, Mr. Knight!
Want to know more about Smackason's specialty sauces?
Facebook: https://www.facebook.com/Smackasons
Smackason website: www.smackason.com.
Be well,
Technicolor girl