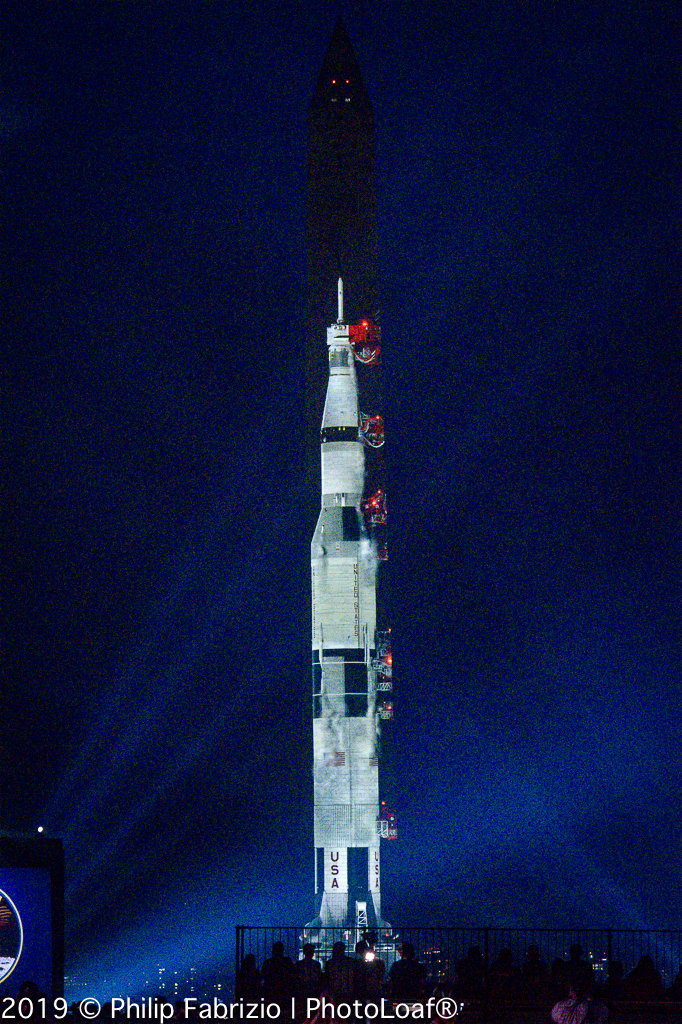 Smithsonian's Apollo 11 Celebration 50 Years in the Making
The Smithsonian Institution knows how to throw a celebration.  Use an iconic image of America, the Washington Monument, then turn it into a projection screen for their 17-minute video montage of world history and the Apollo 11 Moon mission.
Borrowing from the high technology of key sponsors, the Smithsonian edited video catalogs of NASA and the national archives then threw a summer movie party staged on the National Mall.  Make it free.
Under extreme heat conditions on Friday and Saturday people of all ages headed to the National Mall for three nightly video shows of "Go for the Moon."   Families laid out blankets and looked west towards the monument waiting for darkness to surround a projected image of the Saturn V Rocket awaiting liftoff.  T-20, T-15, T-10, T-5, T-3 – all the stages of a Cape Canaveral count down sequenced that was broadcasted over a booming mall speaker system.
Leading up to the liftoff, the Smithsonian displayed on ground level projection screens a visual history that drove the Apollo missions. The highlight was a video of a youthful and engaging President Kennedy who's 1960 speech was filled with promises of hard work and targeted success by the end of the decade.
What followed next was awesome.  A 17-minute montage of man's growth and intelligence leading up to the launch, landing on and return from the moon all projected on the east wall of the Washington Monument.
Avoiding  extreme weather conditions in DC and with storm clouds threatening to the north and west, at 9:35 pm as lighting cracked in the sky the liftoff of 50 years ago began with gut filling reverberation along the mall.  It was like being temporarily transported to a steamy Florida coastline to watch.   The projection screens changed with the story of man's time and desire for travel to the stars all perfectly aligned to the monuments outline.  No one in the audience moved.  We all watched in shear awe.
This gift of from the Smithsonian is special.  This country is special.  If you did not feel it from the roar of the sound of the Saturn V engines or applause of the thousands of onlookers, then you certainly could from my last image.  A projected moon on the tip of that most icon American monument in Washington.
Here are 11 images as projected on the monument in honor of Apollo 11.
All images produced as copyrighted 2019 © Phil Fabrizio | PhotoLoaf®