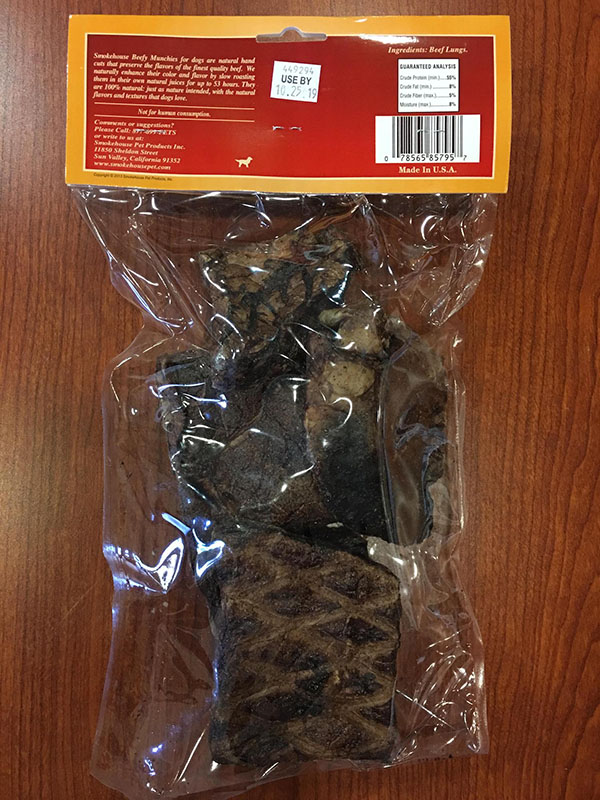 Smokehouse Recalls Pet Products Due to Possible Salmonella
Smokehouse Pet Products, Inc. based in Sun Valley, California is recalling all package types of dog treats labeled as "Beefy Munchies," due to possible contamination with Salmonella. 
According to the U.S. Food and Drug Administration, Salmonella can affect animals eating the products and there is risk to humans from handling contaminated pet products, especially if they have not thoroughly washed their hands after having contact with the products or any surfaces exposed to these products.
"Beefy Munchies" was distributed nationwide through distributors selling to various retailers.
The product comes in individual bags, resealable bags and plastic tubs. The plastic tub will be labeled "Beefy Bites." All sizes and packaging types will include a UPC code, lot number, and a best used by date of stamped on the back.
Signs to look for in pets with Salmonella infections include lethargy, diarrhea or bloody diarrhea, fever, and vomiting. Some pets will have only decreased appetite, fever and abdominal pain.
In humans, signs to look for include nausea, vomiting, diarrhea or bloody diarrhea, abdominal cramping and fever.
No illnesses have been reported to date in connection with this problem.
For more information, click here. 
Recall Expansion Smokehouse Pet Products Inc. Recalls All Lots Of "Beefy Munchies" Sold Nationwide Because Of Possible Salmonella Contamination https://t.co/2whkxxgz9a

— U.S. FDA (@FDArecalls) February 15, 2018
FDA Investigates Pattern of Contamination in Certain Raw Pet Foods due to possible Salmonella and its potential health hazard to human and animal health https://t.co/FcjuGaxpIo pic.twitter.com/egTTQ2ub1N

— Howard Co Health Dep (@HoCoHealth) February 15, 2018