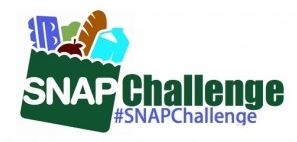 Snap Challenge 2014 Day 1- Rules and Choices
I agreed to the participate in the 2014 SNAP with Maryland Hunger Solutions. The rules are:
1. Plan to spend the average food stamp benefit as your budget for the week. That amount is $33 for all food and beverages.
2. All food purchased and eaten during the Challenge week, including fast food and dining out, must be included in the total spending.
3. During the Challenge, only eat food that you purchase for the project. Do not eat food that you already own (this does not includes spices and condiments.
4. Avoid accepting free food from friends,family, or at work, including at receptions, briefings, or other events where food is served (with the exception of food eaten at public places where anyone could eat, i.e. a homeless shelter, soup kitchen, etc.).
Knowing that I had approximately $33 to spend I had to choose meals that would stretch through the week,  fit my lifestyle (e.g. they could easily be carried with me to work), and would  be tasty. I also had been feeling a little under the weather so the dishes also needed to be filling. My menu for  the week began to take form:
Breakfast: oatmeal with raisins
Lunch: soup with fruit ( 1/2 apple or 1/2 banana or raisins)
Snack: carrot sticks with hummus
Dinner: chili with quinoa  served with spinach, carrots and cucumber
I live within proximity to five markets:
I removed Wegman's and Whole Foods from my lists because their produce was more expensive than the remaining stores. I then reviewed the weekly ads for the remaining stores. Safeway's produce was more expensive than Giant's, Shoppers' and Giant's food prices were in close range to each other. Giant offered two additional coupons : one for $5 with a  total grocery purchase of $15 or more and one for $2with a purchase of $5 or more in produce. I went to Giant.
My grocery bill prior to deductions for reusable bags (2) and coupons was $33.32. After the deductions the bill was $26.22.  Despite having a shopping list, there were trade-offs I had to make in the store and at check-out. I wanted to purchase quinoa. I couldn't afford quinoa; instead I purchase boil-in-bag brown rice. I was going to purchase baby carrots and when I compared prices it was more cost effective for me to get the 2 lb bag of carrots than the 1lb bag of carrots (I'll cut the carrots into sticks myself or use my mandolin). I wanted to purchase three apples, but put one back so I could purchase a cucumber. I also made certain to get my bananas from the markdown area of the produce section  as well as selected the two spices I needed from the international foods aisle versus the spices aisle (the price difference can be as much 50% ). I wanted to make butternut squash  soup, but was concerned that purchasing the butternut squash at $1.49/lb (I would need at least a 2 pound squash) and the other ingredients would be too costly. I elected to make  split pea soup instead and use a few of the carrots and 1/2 of the onion purchased to make the chili in the soup. I'm using smoked turkey instead of smoked ham in the soup -it was on sale and the remaining smoked turkey can be used in the salads or as a snack.  I couldn't afford tahini to make the hummus, so I will try an alterative recipe for hummus I read about on budget bytes.
My goals for this week:
be aware of meal portions/serving size
pack meals ahead of time
drink lots of water
Today, I have a full day at work and a meeting in the evening. The soup was prepared Sunday evening and the chili cooked overnight in the crock pot. The place smells wonderful.
Be well,
Technicolor girl