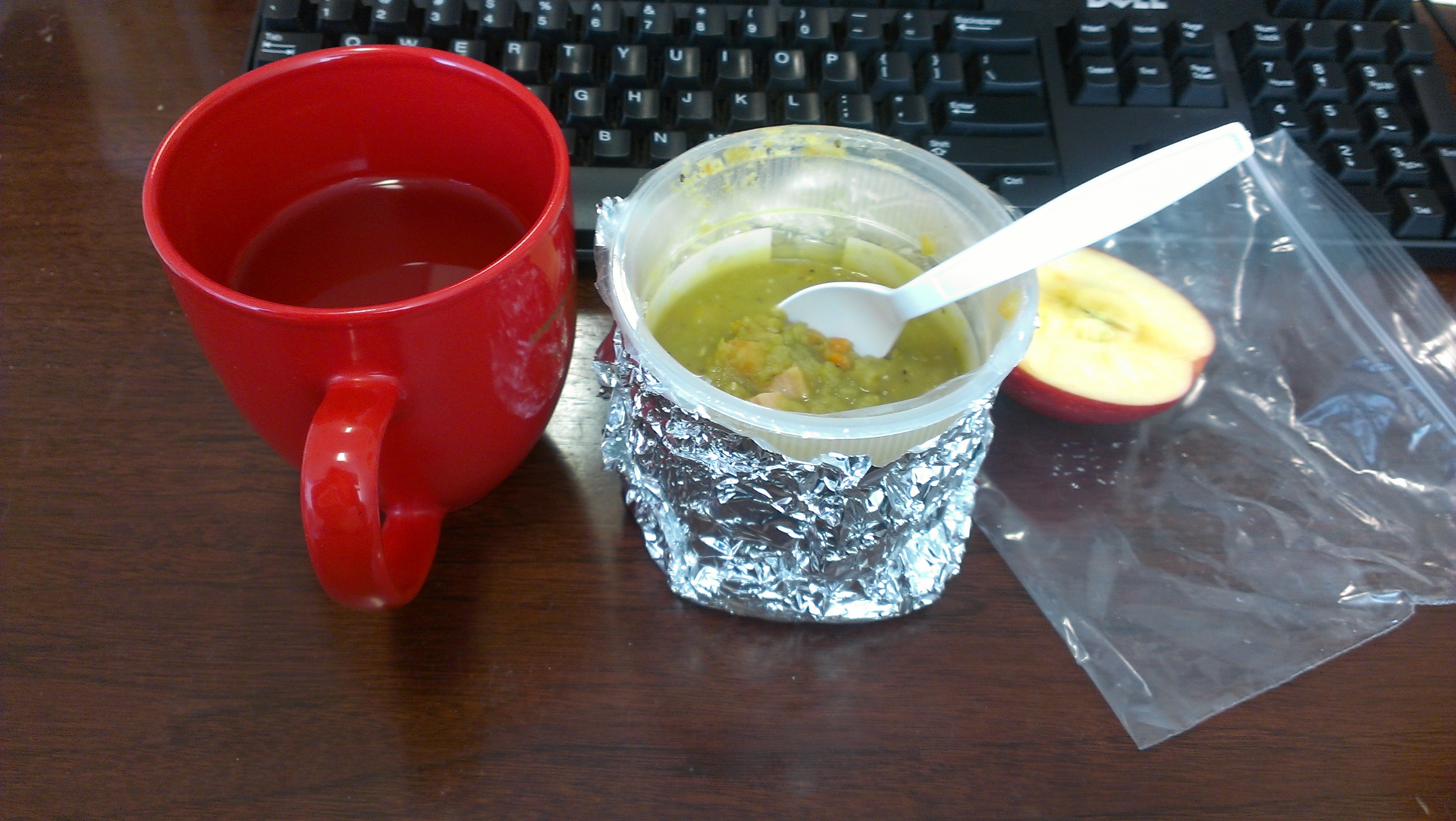 SNAP Challenge 2014 – Day 3: Stride and Stress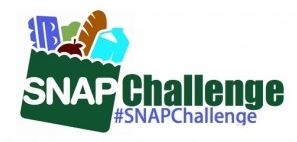 Day 2  was a lot easier to navigate because I planned ahead. I had oatmeal for breakfast relatively early and the morning.  I ended up eating lunch later than  planned,  because I was focused on completing a task at work. when I did eat lunch I literally stopped working and enjoyed my split pea soup, apple and water. I drank more water today as well.  Later in the day when I felt hungry the carrot slices and homemade hummus were just what I needed.  To add some variety to the dinner salad I added shredded carrot to the spinach and cucumber. I also used a Katz's Late Harvest Viognier Honey vinegar from All Things Olive hat I had on hand to enhance the salad flavors (look for an upcoming blog post about All Things Olive).
Day 2 Lessons Learned:
Planning ahead kept me steady through the day.
While I'm consuming 1/2 cup of  prepared oat meal for breakfast , 1 cup of soup for lunch and  2/3  cup to 1 cup chili for dinner with brown rice I am closely watching to see if I will have enough of soup and chili for the remainder of the week.
Cutting the cucumbers and carrots into different shapes and sizes with the mandolin and grater helps create variety with the meals
I continue to have a healthy respect for my mandolin and use it with great care- the blades are razor sharp.
Questions posted to me on  Day 2 and my answers:
Q: Are you hungry?
A: No. I try to space the timing of my meals and snack so I am not hungry. I think the food selections have helped me feel full as well.
Q: Do you make oatmeal every morning? Is the oatmeal plain?
A: I made a pot of oatmeal Sunday evening  ( I used the 'old-fashioned' oats versus the quick oats) and two boxes from a six-pack of raisins. Each morning I take a portion from the pot and reheat it in the microwave.
Q: How long were you unemployed and what did you purchase to eat on $5 to $10 per week?
A: I was not gainfully employed for about a year. There's very little in the way of fresh fruits or vegetables that you can purchase on a budget that low. I consumed rice, oatmeal, ramen noodles, applesauce, canned meats. During this time I learned about the 'markdown' produce in the store. I often ate once a day.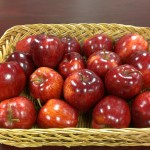 Q: Why didn't you qualify for assistance when you were unemployed?
A:  The State of Maryland requires completing an application to participate in the program. After completing the application I was contacted by Montgomery County Health and Human Services for an interview. The interviewer asked a series of questions about assets, sources of income and expenses. About 10 days later I received a letter in the mail stating my application was denied because I had car insurance and I had money in a savings account (at the time about $2,000) – should I exhaust my savings and cancel the car insurance I might be reconsidered. I couldn't cancel the car insurance because I sometimes used the car to drive to my then part-time job and the State of Maryland requires registered vehicles to have insurance.
Day 3 will be a busy day at work. I am curious to see how the rush to meet deadlines and juggling tasks will impact the time I have to eat lunch and a afternoon snack.  I am  also scheduled to attend an evening meeting where a light dinner will be served. I am a bit anxious about the event as I know the event organizers try to make sure everyone eats – it is a matter of culture and hospitality.
I hope you will return to see how the day unfolds and I make strides and navigate the stressful moments of Day 3.
Be well,
Technicolor girl