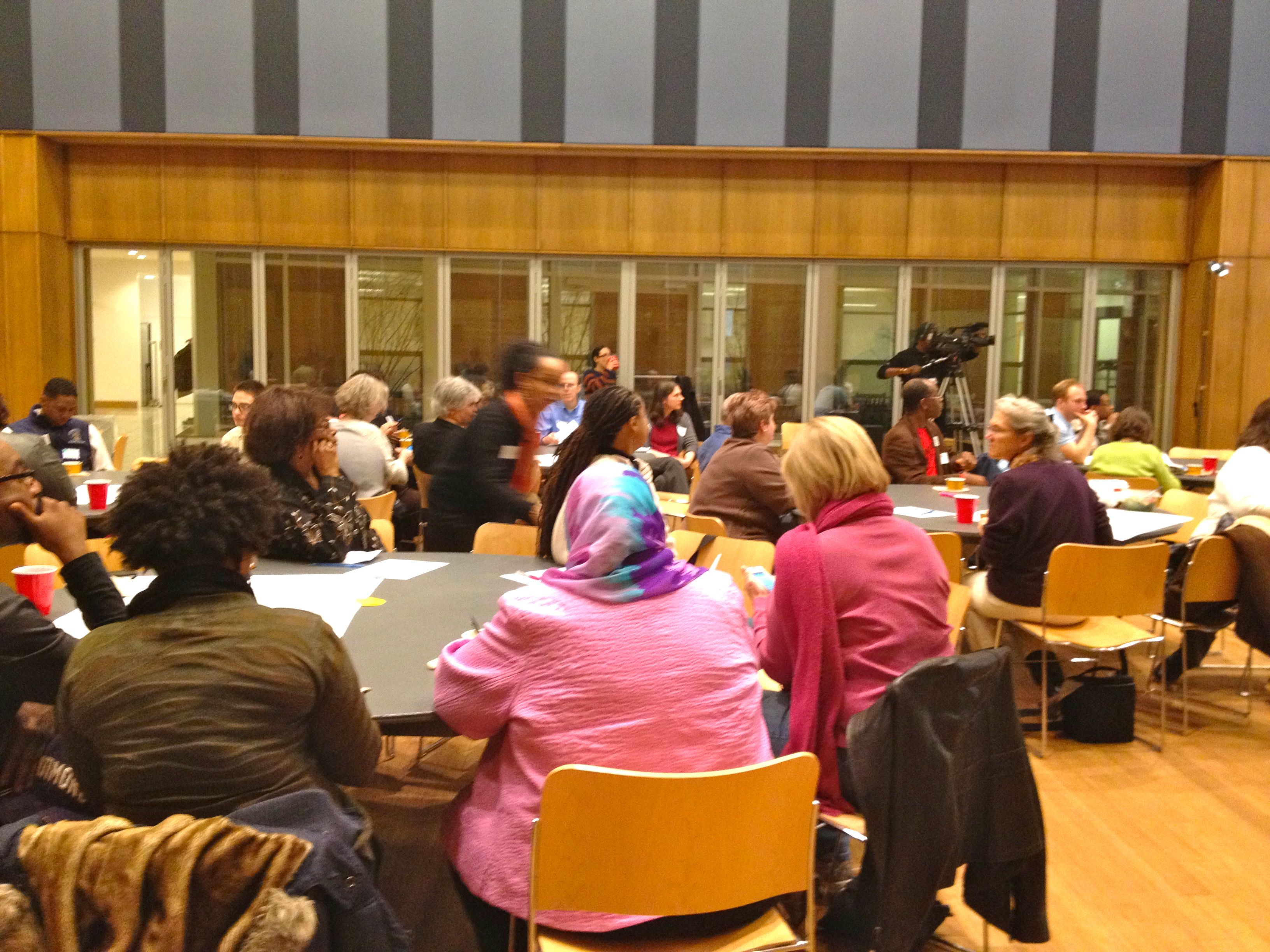 Snap the Silence Wrap Up (Photos & Videos)
UPDATED
Residents, non-profit providers, community activists and elected leaders gathered at the Silver Spring Civic Building on the eve of Feb. 8 to discuss their work week living on the Supplemental Nutrition Assistance Program (SNAP) $5 per day food budget. MyMCMedia's Sonya Burke reports.
As noted in the above video, it was Montgomery County Councilmember Valerie Ervin organized the SNAP the silence on poverty challenge and hundreds of local residents joined her efforts to bring attention to the issue of poverty in affluent Montgomery County. The challenge kicked off on Feb. 4 and on Feb. 8 over 50 of these participants gathered for conversation and food. Interfaith Works provided the participants with soup and bread.
Here's a look at Councilmember Ervin's remarks to participants.
Following Ervin's remarks the included a brainstorming session in hopes of spurring more action to help those in need. Council member Craig Rice noted that he had lost four pounds during the week.
"The goal is to turn this heightened awareness about poverty in Montgomery County into action for our neediest residents," said Ervin. "The non-profit and faith-based partners, who focus on issues of poverty in Montgomery County, do amazing work on behalf of our residents. I thank them for the work they do every day to ease the burdens faced by so many. This challenge has demonstrated to all of us that we have more work to do."
"I believe that this week's action, especially amongst the public leaders in our community, has perhaps incited the movement to eradicate poverty from the face of our county—and I am glad that we at IMPACT Silver Spring can be a part of it," said Ronnie Galvin, the director of IMPACT Silver Spring.
Mark Bergel, the founder and executive director of A Wider Circle, said: "This is a great week of prioritizing the needs of our neighbors, and to be sure, it is what we all do on February 9 and going forward that counts. In this county, at this time, so much is possible. The SNAP Challenge lays the groundwork for us to take important and necessary strides in ending the poverty that holds our neighbors down."
Here are some photos from the Friday night conversation where participants concluded this was just the beginning of the movement.