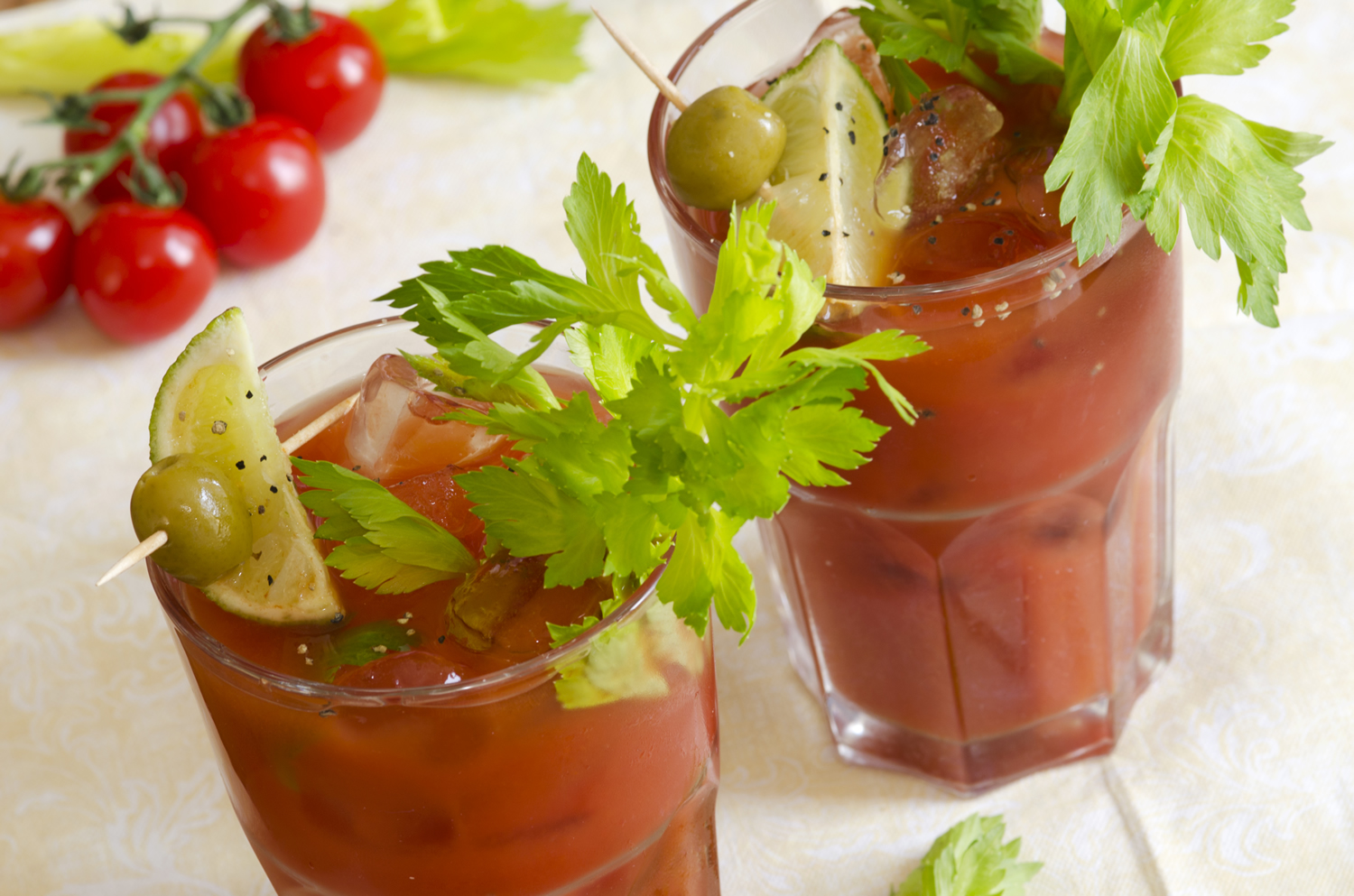 Snow Day Prep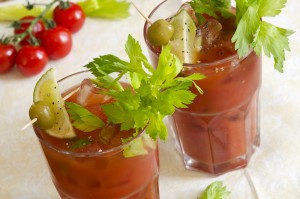 This past fall my husband and I made the trek to Ohio State to watch the Terps play the Buckeyes. Although it was a beautiful day and an exciting game, what I enjoyed most was the Bloody Mary that one of our cousins' friends made for us at the pregame tailgate.
I'm not sure what the base was exactly for the cocktail (usually that is what most impresses me about this drink, that is certainly an acquired taste), but it had a celery stick, a chilled jumbo steamed shrimp, a Slim Jim and dilly beans as garnish. It was a meal in a cocktail!
We got home and went to a Redskins tailgate a few weeks later, so we brought my version of the OSU Bloody Mary  – V8 juice, splash of Worscestershire, splash of Frank's hot sauce, some lime juice and white horseradish, PLUS Gorgonzola cheese stuffed olives from Wegman's, a "healthy" version of the meat stick (at least that's what I told myself), a chilled steamed shrimp, some crabmeat on a toothpick sprinkled with Old Bay, and a celery stick. (NOTE: I have to give credit to my husband who doesn't drink Bloody Marys, but helped me improve on the garnish – the crab was his idea, and it was a good one!)
What does this have to do with the impending weather, you ask? Every once in a while I get a craving for an awesome Bloody Mary like this. Around town my favorite is probably Comet Ping Pong's (on Connecticut Ave) version that uses their pizza sauce as the base (their pizza is pretty good, too!), so every opportunity I get, we head to DC and drop in for a Bloody (thanks again to my wonderful husband for his support). This past weekend, for example, was a Bloody Mary weekend, but I made them without all the accoutrements. It just didn't cut it for me.
As an aside, I am a bit of a weather nerd and follow bloggers who look at the long range forecast. For the past three weeks when we had rain and then bitter cold, there had been the chance that the storms might have lined up with the cold weather to bring us snow. As such, we have made our trips to Costco to ensure we are stocked with bread, milk, toilet paper, and, most importantly, dog food for our three large lab mixes.
So, earlier this week, when we started to see the weather models indicate an historic east coast storm, the prospect of getting snowed in without Gorgonzola stuffed olives started to make me panic. I also realized that I don't have any snow boots (my lab mix puppies ate them – not kidding).
This morning I ordered myself a new pair of snow boots from Zappos to be delivered tomorrow. However, what I am most concerned about with this impending storm is making sure that I have Gorgonzola cheese stuffed olives for my Bloody Mary, along with the rest of the gourmet fixings. Forget about bread, milk and toilet paper, I'm going for the perfect cocktail this weekend – no need for a designated driver or the Uber app. #priorities
Stay warm and safe, everyone!