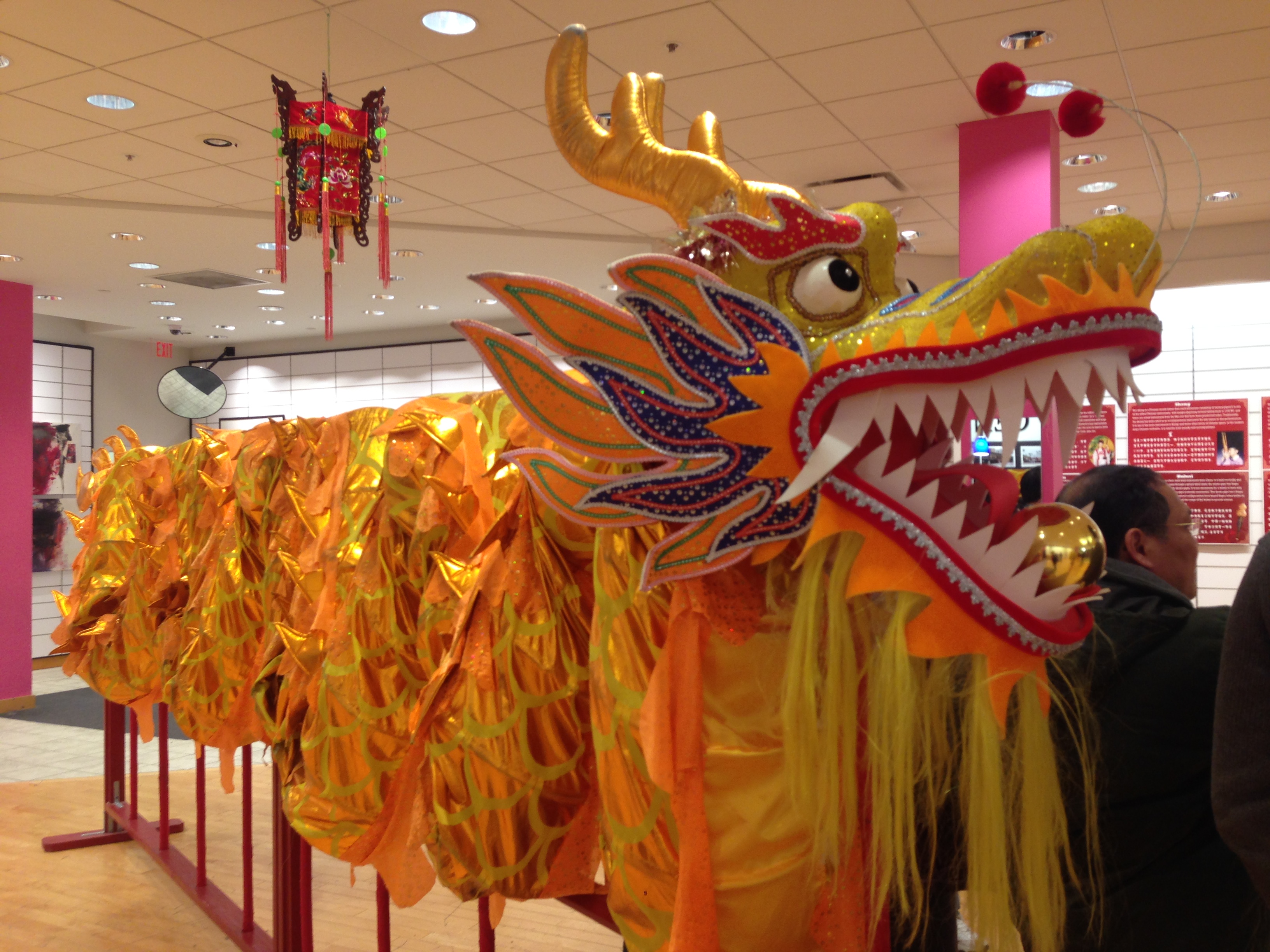 Snowing Outside; Celebrating Chinese New Year Inside (PHOTOS)
It was a snowy day outside, but inside the Lakeforest Mall in Gaithersburg hundreds of people celebrated the 4713 Chinese New Year. It's the year of the goat and in Chinese culture anyone born in this year is calm and gentle.
The 16th Annual Lunar New Year Festival celebration was hosted by the Chinese Culture and Community Service Center and featured dance performances, martial arts, seventy-foot dragons, thirty-foot calligraphy banners, five-foot lanterns and more.
The celebrations have officially started. #ChineseNewYear pic.twitter.com/9iVm7wlbO8

— Aline Barros (@AlineBarros2) February 21, 2015
"Obviously with the Chinese New Year festivities going right now, red is a great color [be]cause is symbolic of good luck," said Wallace Lee, Director of the Lion Dance team for Chinese Youth Club.
Lee said colors are very mixed in Chinese culture, but each has its on meaning. The celebration begun on the new moon on the first day of the New Year on Feb. 19 and will end on the full moon 15 days later. During this important time, it is traditional to wear red to bring luck and happiness.
He also explained that while dancing the lions eat lettuce then scatters it through the crowd to spread good fortune, luck, and wealth.
Until March 1, visitors can enjoy two weeks of educational displays located around the mall including Chinese knots, silk thread flowers, Chinese painting and calligraphy, and a special exhibition of Chinese Music.
"Chinese New Year is a time for families to be together. Wherever they are, people come home to celebrate the festival with their families. The New Year's Eve dinner is called Reunion Dinner, and is believed to be the most important meal of the year," said LiFang C. Liu, deputy executive director of Chinese Culture and Community Service Center.
Liu added that people born in the year of the Goat are believed to be gentle, shy, stable, sympathetic, amicable, and brimming with a strong sense of kindheartedness and justice.
"The most common Chinese New Year foods includes dumplings, fish, spring rolls, and niangao," Liu said.
Montgomery County Councilmember Sidney Katz visited the event and said the Chinese New Year has been a large celebration in Gaithersburg for many years.
"It's necessary that each of us realizes all the good traditions that each of us have, and we celebrate them together. I always talk about Montgomery County [as being] like a puzzle, and you have to make certain that all pieces fit together, and today is another one of those days when that happens," Katz said.
According to a press release, a 210-foot representation of the Great Wall of China painted by renowned artist Bertrand Mao will set the backdrop as Lakeforest Mall conducts its annual Lunar New Year celebration.
"We also have the vast array of cultural and traditional performances and workshops on the weekend," Liu said.
Here's what visitors can check out:
– Feb. 21, 22, 28 and March 1
On the weekends of the celebration center court at Lakeforest will be the site of variety shows, which will include dragon and lion dances, folk dances, martial arts and other performances. A closing ceremony will be held on Sunday, March 1 starting at 5:00 p.m.
– Feb. 16 through March 1
Throughout the common area of the shopping center visitors will find displays of Chinese art and culture, including New Year traditions, traditional Chinese paintings, calligraphy, silk flowers and more. The special exhibit this year is "Chinese Music."
Lakeforest Mall is located at 701 Russell Avenue in Gaithersburg.
Related: