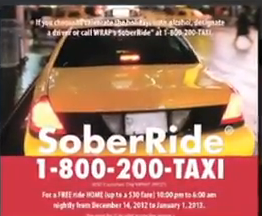 SoberRide (Video)
Washington Regional Alcohol Program (WRAP), is offering a popular, free cab ride service for drivers who have been drinking called SoberRide. WRAP's 2012 Holiday SoberRide program is available now from 10 pm – 6 am every night until Tuesday, Jan. 1, 2013. To receive a free cab ride home, up to a $30 fare, call 1.800.200.8294 (TAXI).
In this video Montgomery County's Transportation Community Relations Manager Tom Pogue emphasizes the importance of driving sober this holiday season and provides some details on the SoberRide Program.
Visit our PEG partner County Cable Montgomery to view more of its local programming.