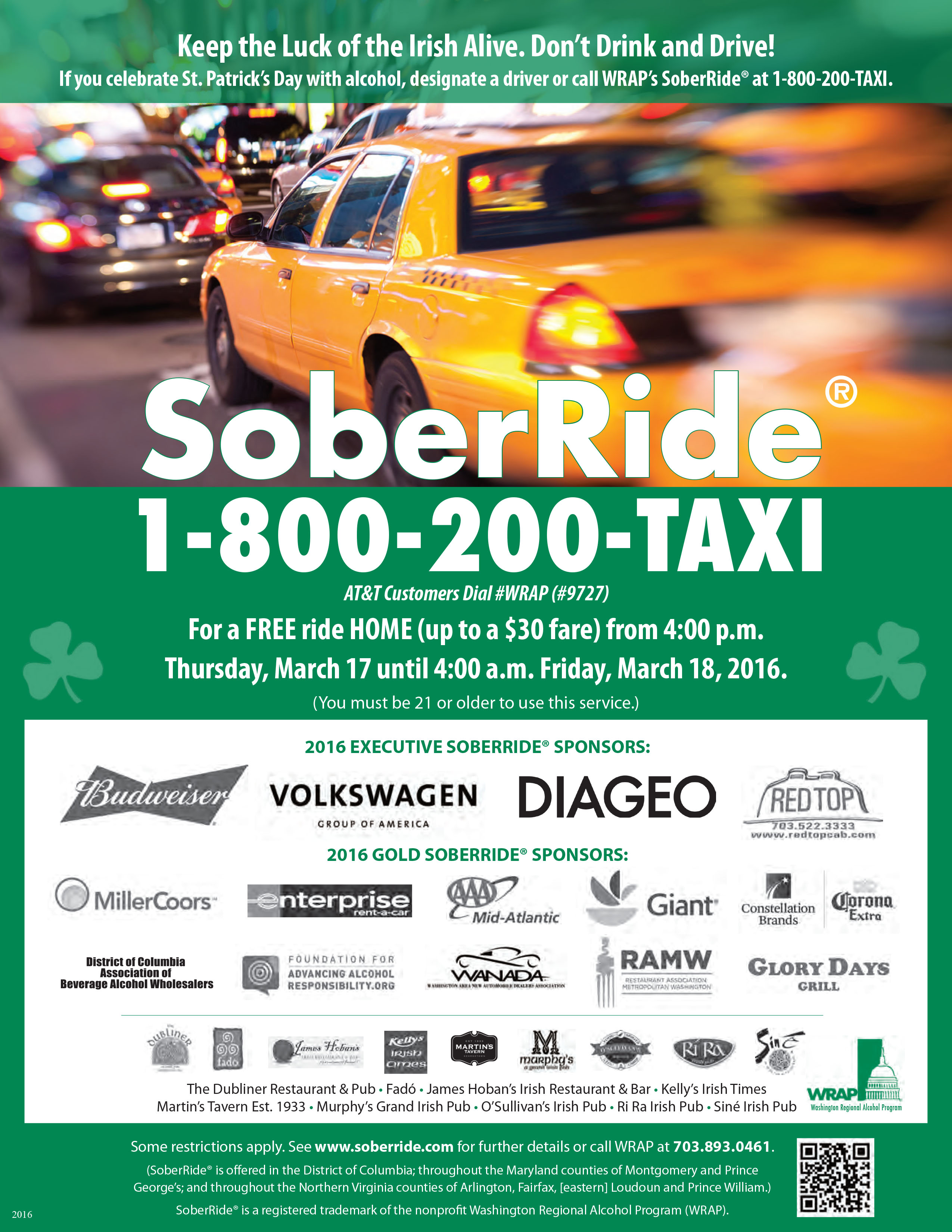 SoberRide Offered on St. Patrick's Day
Washington Regional Alcohol Program's 2016 St. Patrick's Day SoberRide program will be offering free rides to keep drivers from drinking and getting behind the wheel.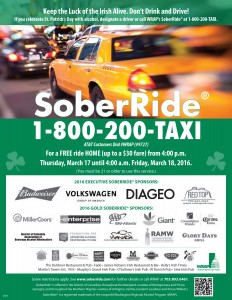 The free service is available from 4 p.m. Thursday, March 17 until 4 a.m. Friday, March 18.
To receive a free cab ride home (up to a $30.00 fare), call 1.800.200.8294 (TAXI). AT&T customers may dial #WRAP from their wireless phones. Please refer to the SoberRide information listed below for important details concerning this program. You must be 21 or older to use the SoberRide service.
WRAP's SoberRide, called one of the nation's most successful free cab ride programs for would-be impaired drivers, has helped to ensure greater Washington, DC residents have a safe way home on high-risk holidays, according to a news release. Since 1993, WRAP has provided over 64,641 safe rides home.
You must be 21 or older to use the SoberRide service. All calls must originate in Montgomery and Prince George's Counties in Maryland; the Cities of Rockville, Bowie, College Park, Gaithersburg, Greenbelt and Takoma Park in Maryland; the District of Columbia; Arlington, Fairfax, Prince William and Eastern Loudoun Counties in Virginia; and the Cities of Alexandria, Falls Church, Fairfax, Manassas and Manassas Park in Virginia.
You cannot reserve a SoberRide or schedule a pickup in advance. To receive a ride, you must call 1.800.200.8294 (TAXI) during the program hours. A SoberRide call operator will direct your request to the correct participating cab company.
Participating Taxi Companies:
Alexandria Yellow Cab (Alexandria)
Barwood (Montgomery County)
Fairfax Yellow Cab (Fairfax County)
Loudoun Yellow Cab (Eastern Loudoun County)
Northern Virginia Checker Cab (Prince William County)
Red Top Cab (Arlington County)
Silver Cab of Prince George's County (Prince George's County)
Yellow Cab of District of Columbia (District of Columbia)
Yellow Cab of Prince William County (Prince William County)