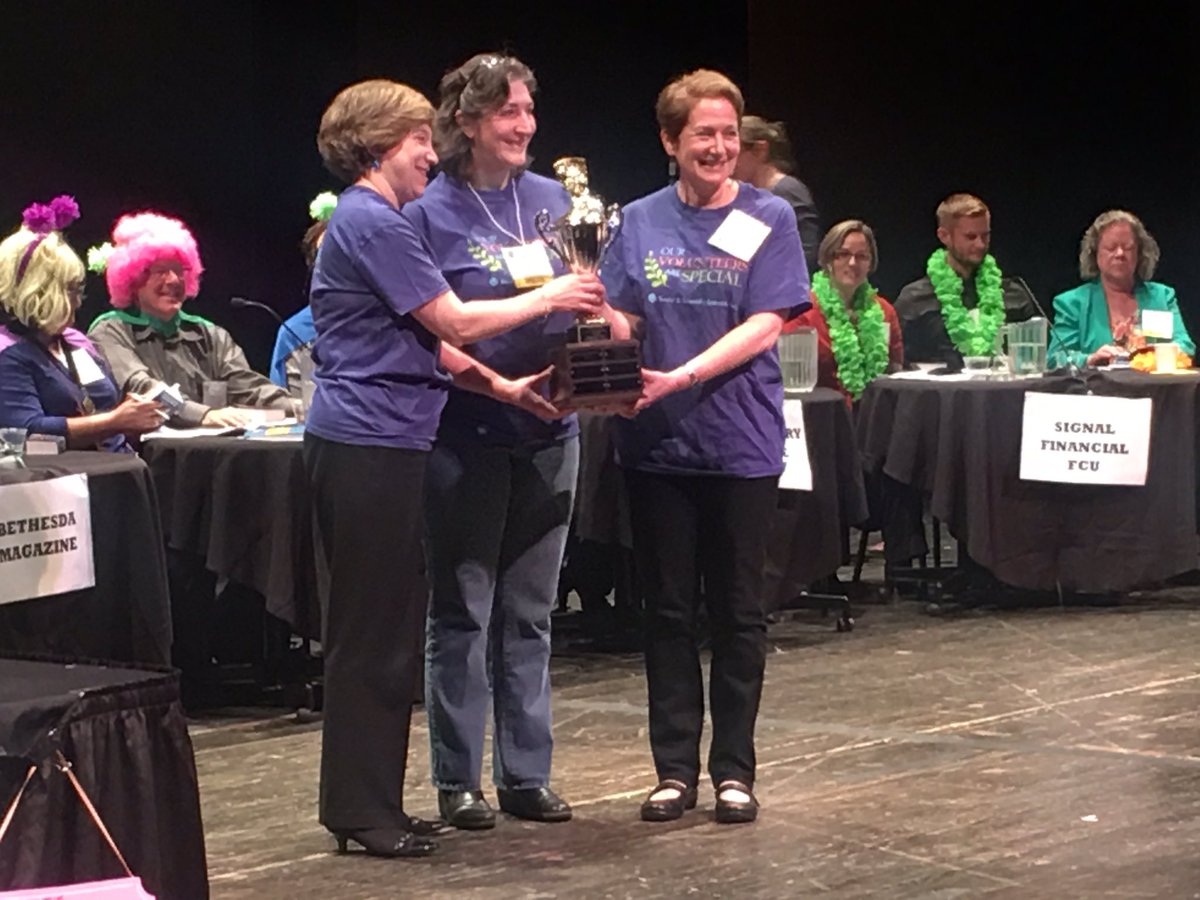 Social and Scientific Systems Are MCAEL's Adult Spelling Bee Champions (VIDEO)
For the second year in a row, Social and Scientific Systems won the adult spelling bee sponsored by the Montgomery Coalition for Adult English Literacy on Wednesday evening.
MCAEL promotes access to English language services across Montgomery County. The adult spelling bee is not only an annual fundraiser for the organization, but a way to bring out awareness to the community on an important issue.
"We have a County of a little over one million people yet a little over 100,000 of those folks, when they fill out their Census form, say that their limited in they're English proficiency," Kathy Stevens, executive director of MCAEL said. "We want to make sure that we're providing classes to fulfill that need."
Dozens of residents watched six teams: Adventist Health Care Inc., Montgomery College, Burness Communications, Signal Financial Federal Credit Union, Bethesda Magazine, and Social and Scientific Systems compete for the Queen Bee trophy.
Organizers say the goal of the spelling bee is to highlight some of the difficulties within the English language.
"An adult learner probably takes, on average, about seven years to be proficient in a new language," Stevens said. "This is a fun way to show that this is a hard thing but we yet we support all of our community members to get the education that they need."
For the second year in a row, Social & Scientific Systems wins @mcael Spelling Bee @mymcmedia pic.twitter.com/pGx28PZKH3

— Mitti Hicks (@MittiMegan) April 6, 2017
And the @mcael spelling bee begins !!!! @mymcmedia pic.twitter.com/SxU341eFa0

— Mitti Hicks (@MittiMegan) April 5, 2017
This year's judges include @GburgMD mayor @judashman @mocoboe @ShebraEvans & @GGCCNEWS CEO @mbalcombe123. @mymcmedia pic.twitter.com/mvxXOt448f

— Mitti Hicks (@MittiMegan) April 5, 2017
Cheers to B-E-E selfies !! @mymcmedia @mcael pic.twitter.com/JMjpHgxSxp

— Mitti Hicks (@MittiMegan) April 5, 2017