Solar Arrays Proposed for County Parks in Germantown, Rockville
Montgomery County may soon have its first parkland solar arrays.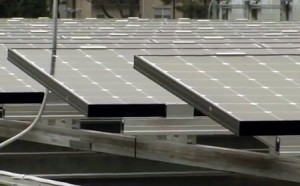 The two arrays are proposed for South Germantown Recreational and Rock Creek Regional Park to reduce the county's carbon footprint. Each array is proposed to be about five acres.
Montgomery Parks staff evaluated approximately 135 park owned properties from an inventory of more than 400 parks, according to Dominic Quattrocchi, park planner. Sites that would displace existing or future planned uses, clear forest, or impact sensitive buffer areas were excluded, according to Montgomery Parks. Conservation Parks, stream valley parks and neighborhood parks were largely excluded from site selection review. Thirty-five "finalists" were further analyzed.
The proposed area for a solar array in Rock Creek Regional Park is an approximate seven-acre area east of Needwood Road, directly south of the Inter County Connector on land used to stage and store sediment recently excavated from Lake Needwood. This area was part of a larger area purchased in August 2011 from the Maryland State Highway Administration (34.5 acres) specifically for the purpose of receiving dredge spoils.
The proposed area for a solar array at South Germantown Recreational Park (SGRP) is in a field west of the Maintenance Facility and adjacent to high voltage power transmission lines. Currently under an agricultural lease for hay production, this field is visually removed from adjacent properties and the perimeter park road.
According to Montgomery Parks the benefits of the array are:
Reduced carbon footprint equivalent to annual greenhouse gas emissions from 300 automobiles
Estimated energy savings up to $290,850 per year per 2 megawatt solar array
Reduce dependence on non-renewable resources and impact of extraction techniques that harm the environment
Consistent with M-NCPPC's Mission Statement
Consistent with Montgomery County's Energy Initiatives and Carbon Reduction Goals
The proposal is on the March 5 Montgomery County Planning board agenda. Comments and questions on the proposal may also be submitted online at www.ParkPlanning.org Pending approval from the Montgomery County Planning Board, solar farm construction will begin in the late spring /early summer of this year and is expected to be complete by the end of 2015. According to the parks report, the solar array project  is currently an unfunded initiative, requiring third party investment.
"We expect to save up to 290,000 dollars per year which Department of Parks staff hopes will rolled into other innovative alternative energy projects," Quattrocchi wrote in an email to MyMCMedia.