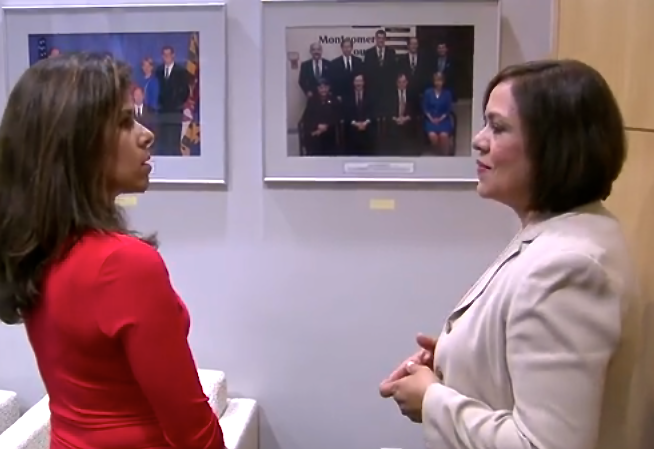 'Somos Montgomery' Celebrates Hispanic Heritage Month in Montgomery
Five Latino Leaders featured in Somos # 7
In this edition of Somos Montgomery we are celebrating the Hispanic Heritage Month by honoring five of our most accomplished Latino leaders in a wide range of fields in the area. Somos is a County Cable Montgomery (CCM) TV show in Spanish that airs weekly and is produced monthly to bring relevant information to the Hispanic community.
In the field of local government, we interviewed Venezuelan American Councilmember Nancy Navarro and learned more about how she landed in public office. "I was not into politics, all I was interested in was helping the community…". She understood the need for the Latino voice to be represented at the table where the decisions were made for so many issues. Her winning the seat for Montgomery County District 4 has helped open doors for other Latino leaders to come. "My contribution here at the Council is to bring the perspective of the immigrant community, but also the perspective of integrating everyone, so that all the voices are equal". To see the video clip in Spanish go to: https://www.youtube.com/watch?v=tvOim5HxAtI
Antonio Cardoso of Mexican origin was our choice for the field of health and science. He is a senior scientist at U.S Pharmacopeia, a non-profit organization that sets the standards of quality in medications, food ingredients, and dietary supplements enforced by the Food and Drug Administration. Besides his exemplary career, he is passionate about education. He holds a few leading positions at Parent Teacher Student Associations and has received the Montgomery County Board of Education Award for Distinguished Service. "My dream is to have an organization of Latino Parents throughout the county to support each other," says Cardoso. That dream may come true soon. To view his interview en español go to: https://www.youtube.com/watch?v=jb2as8Ud4J4&list=UUj3Lj5xqJk9JeqsQtat-Ybw
We also talked with Rosana Azar an internationally recognized artist from Argentina, Marta Bohorquez a Ecuadorian community
leader serving people with disabilities, and last but not least Antonio Tijerino, Latino leader born in Nicaragua, who is offering training opportunities and recognition to thousands of Latino youths nationwide.
All these five Latino leaders reside in Montgomery and are examples of the many Latinos making extraordinary contributions to our community and America in a wide range of fields.
The Hispanic Heritage Month runs from September 15 until October 15 every year. It is the perfect time to learn more about Hispanic culture, its legacy and contributions to our society.
Somos Montgomery is a 15-minute program featured at numerous times on CCM, on channels 6 on Comcast/RCN and 30 on Verizon. 'Somos Montgomery' viewing times include Tuesdays at 9:45 a.m. and 10:15 p.m., Wednesdays at 2:30 p.m., Fridays at 12:45 p.m., Saturdays at 3 p.m. and 9:45 p.m., and Sundays at 1:30 p.m.
Though Somos Montgomery is produced in Spanish, captions are also available in English on the program's page:
http://www.montgomerycountymd.gov/CCM/somosmontgomery.html
The show's individual segments also can be viewed on the Council YouTube Spanish web site at:
https://www.youtube.com/playlist?list=PLvk-7RcdeRpSJuTk124fpOgr_LthIJ3UG