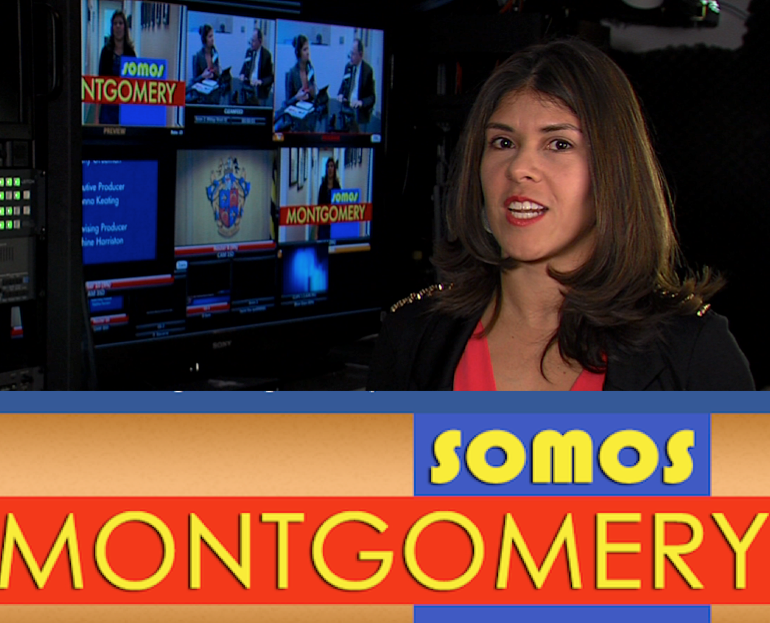 Somos Montgomery Celebrates One Year on Air
Somos Montgomery is an award winning 15-minute County Cable Montgomery (CCM) show in Spanish celebrating its first year on the air.
This magazine style TV show focuses on relevant issues before the Council and key stories for Hispanics in Montgomery County. The program was first launched on February 26, 2014 as part of a multimedia strategy led by Councilmember Nancy Navarro to establish stronger communications between the legislative branch and the Latino community. During the last week of February and March we will share the most popular videos of the year in this anniversary edition.
The first program featured local leaders participating at the MCM Latino Leadership Conference. They shared their thoughts on their identity, the educational achievement gap issue, business development, and the importance of participating civically at the local level. Here is a clip from the most popular video of this first show entitled Identity.
We have also interviewed many Montgomery County based Latino business owners, including the Maryland Hispanic Business 'Negocio del Año' Martín Mayorga of Café Mayorga with headquarters in Rockville.
At 'Somos Montgomery' we dedicate ample air time to bring awareness about participating civically in our district, Councilmember Navarro explains.
We also keep an eye on the contributions our Latino youth make to the county. The winners of the Choose Respect 2014 video contest with Hispanic youth director Max Soto was one of the most popular clips this year.
The first 'Somos Montgomery' received honorable mention in the national 2014 NATOA ethnic experience category.  This show is featured at numerous times on CCM, on channels 6 on Comcast/RCN and 30 on Verizon. 'Somos Montgomery' viewing times include Tuesdays at 10:15 p.m., Wednesdays at 11:30 a.m. and 2:30 p.m., Fridays at 12:45 p.m., Saturdays at 3 p.m. and 9:45 p.m., and Sundays at 1:30 p.m.
Para la versión en español vaya a: El Tiempo Latino.
THANKS FOR WATCHING!