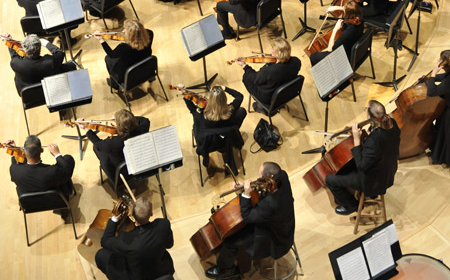 Sounds of Central Europe at Strathmore
The National Philharmonic conducted by Piotr Gajewski and featuring violinist Nurit Bar-Josef will perform Jan. 4 at 8 p.m. and Jan. 5 at 3 p.m. at the Music Center at Strathmore, 5301 Tuckerman Lane, North Bethesda. Tickets are $28 to $84 and may be purchased online at
Strathmore website
or by calling 301.581.5100.
Program:
Dvorák Serenade for Strings
Mozart Violin Concerto No. 5
Mozart Symphony No. 29
The Serenade for Strings by Dvorák, the great Czech nationalist composer, is laden with rich sonorities and hauntingly beautiful melodies suffused with the spirit of Czech folk music. Performed by Nurit Bar-Josef, concertmaster of the National Symphony Orchestra, Mozart's Violin Concerto No. 5, often referred to by the nickname Turkish, is full of energetic and lively melodies. Symphony No. 29, one of Mozart's early symphonies, is a very personal work that combines intimate chamber music style with a fiery and impulsive manner.
A free pre-concert lecture will be offered in the Concert Hall at 6:45 p.m. on Jan. 4 as well as at 1:45 p.m. on Jan. 5.
Kids age 7-17 are free. Please call the Strathmore Ticket Office directly at 301.581.5100 to purchase Kids free tickets. Kids free tickets are not available for online purchase.