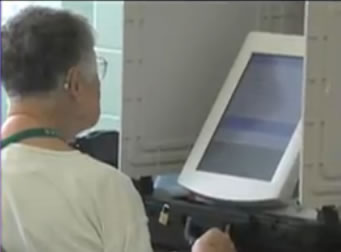 Spanish Question 6 Language Updated
The Montgomery County Board of Elections announced on October 27th that an updated and corrected Spanish language summary of ballot Question 6 is available on its website at www.777vote.org, at all early voting center locations, and will be available at all polling places on Election Day. The Board has taken this step due to concerns that were raised about an earlier version mailed to voters and apologizes for any confusion.
The text of the Spanish language summary has been approved by the State Board of Elections, as follows:
PREGUNTA 6: REFERENDO POR PETICIÓN
Lenguaje Actualizado en Español de la Pregunta 6
Demanda de Decreto Estatutario para un Referendo Estatal –
Ley de Protección del Matrimonio Civil
Capítulo 2 del 2012 (Proyecto de Ley 438)
Resumen
Esta Ley enmienda la ley actual para permitir que las parejas de hombres y las parejas de mujeres gay obtengan una licencia de matrimonio civil. Otras prohibiciones y restricciones de edad con respecto a quién se puede casar legalmente permanecen vigentes.
La Ley también provee protecciones religiosas. Las entidades religiosas retienen control exclusivo sobre sus propias doctrinas teológicas, políticas de enseñanza y creencias en relación con quién se puede casar dentro de esa fe. A ningún individuo u órgano autorizado oficialmente dentro de una orden religiosa para celebrar matrimonios se le podrá exigir celebrar u oficiar matrimonio o rito de matrimonio alguno que viole su derecho de ejercer libremente su religion tal y como lo garantizan las constituciones de EE. UU y Maryland, y no podrá ser sujeto a multas u otras sanciones si no puede o se rehúsa a celebrarlo u oficiarlo.
Además, según la Ley, a ninguna entidad religiosa se le puede exigir que provea servicios, alojamiento, ventajas, instalaciones, bienes o privilegios si éstos están relacionados con la celebración de un matrimonio que viole las creencias religiosas de la entidad, o con la promoción del matrimonio por medio de cualquier tipo de programa o servicio social o religioso, a menos que se reciban fondos estatales o federales para ese programa o servicio específico; tampoco la negative a ofrecer cualquiera de éstos genera acción civil ni causa legal de pedir. Además, el Estado no puede penalizar, retener beneficios de, o discriminar a la entidad por dicha negativa. Las protecciones de la Ley se extienden a asociaciones, sociedades o instituciones sin fines de lucro u organizaciones manejadas, supervisadas o controladas por una entidad religiosa. Si esta pregunta es aprobada por los votantes, los cambios resultants al estatuto no pueden ser interpretados para prohibir a las entidades religiosas que limiten su admissión o que otorguen preferencias a individuos de la misma religion o denominación cuando, de otro modo, la ley se los permita.
Finalmente, la Ley también estipula que que no se puede exigir a una sociedad de beneficio fraternal manejada, supervisada o controlada por una organización religiosa que admita individuos como miembros o que provea cobertura de seguro si hacerlo constituye una violación de sus creencias religiosas. Tales negativas no pueden generar una acción civil o una causa legal de pedir, o servir de base para la retención de beneficios o servicios gubernamentales.
La Ley no afecta leyes existents que prohíban la discreiminación en el trabajo, la vivienda, o en alojamientos públicos en base a la orientación sexual.