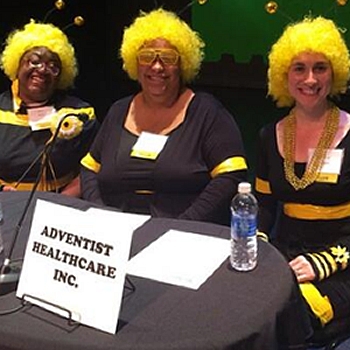 Spelling Bee Puts Competitors in non-English Speakers' Shoes
It's an annual fundraiser where native English speakers put themselves in the shoes of those who are not.  The Montgomery Coalition for Adult English Literacy is hosing their fourth annual Grown-up Spelling Bee on April 5.
"Learning and mastering English is a life-long process," Monica Buitrago, community outreach coordinator for Montgomery Coalition for Adult English Literacy said. "We are putting executives on the spot to help them understand what it's like for non-English speakers to learn the language."
Social & Scientific Systems, the 2016 Spelling Bee Champions, will defend their title against five other teams which include Adventist HealthCare, Montgomery College, Bethesda Magazine, Signal Financial Credit Union and Burness.
Organizers say even though it's a competitive event, the main objective is to raise money to extend MCAEL's services to the community.
"This is our annual fundraiser to get more learners to access English classes,"Buitrago said. "There are 130,000 residents in Montgomery County that are considered limited English proficient and we're only reaching a small percentage."
This year's judges include Gaithersburg Mayor, Jud Ashman; CEO of the Gaithersburg Germantown Chamber of Commerce, Marilyn Balcombe, and Montgomery County Board of Education Representative, Shebra Evans.
The spelling will take place at Montgomery College Cultural Arts Center in Silver Spring and begins at 6:30 p.m.
More information is available here.
So many words! Learn some new ones at the MCAEL Grown-Up Spelling Bee 4.05.17 https://t.co/hcQp1A5OdN

— MCAEL / ESOL (@mcael) March 24, 2017
Who knew an adult spelling competition could be so much fun? Get your tickets now and support @mcael: https://t.co/esxYUQbJRg #MCAELBEE pic.twitter.com/AxyyJse0fq

— MCPS (@MCPS) March 29, 2017