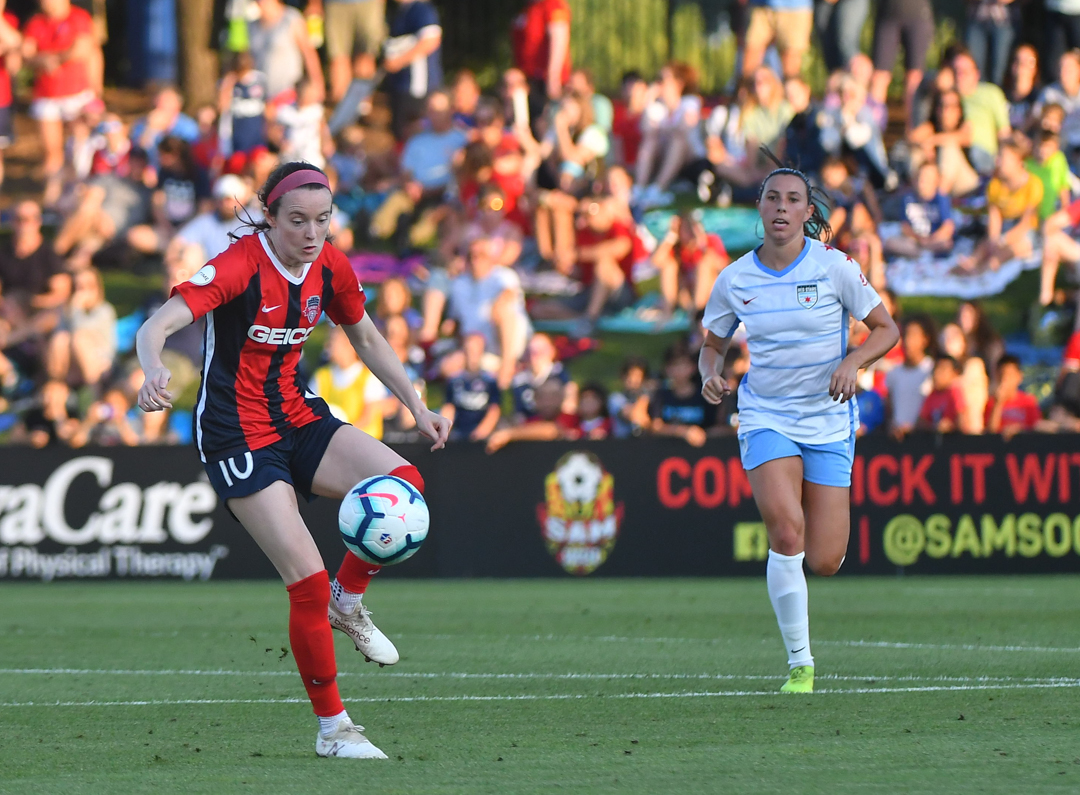 Spirit Fall in Lavelle's First Home Game Back
Rose Lavelle was back in the lineup at home for the first time since the World Cup but the Washington Spirit missed an opportunity to move up in the standings.  The Chicago Red Stars extended their winning streak to five games shutting out the Spirit 1-0 dropping them to sixth place in the National Women's Soccer League.  The Red Stars sit atop the standings.
The match, played on a gorgeous evening at Maureen Hendricks Field in Boyds Maryland, gave the spectators a view of some of the greatest players in the world for women's soccer.  For the Spirit, Lavelle was back on the home pitch for the first time since the Women's World Cup.  Mallory Pugh was out with an injury.  Chloe Logarzo from the Australian National Team was not in the lineup for the Spirit.  For the Red Stars, US National Team Players Julie Etrz, Alyssa Naeher, Tierna Davidson, Morgan Brian, and the indomitable Sam Kerr of the Australian National Team.  Brian did not play in the match.
The first half of the match was relatively even despite the overload of World Cup players from the Red Stars.  Aubrey Bledsoe demonstrated again her ability to deny goals to the opposition with the aid of her brick wall defensive players.  Her first test was at minute 5 when Arin Wright of  the Red Stars gets a shot off that ends up in Bledsoe's control.   Wright got her second chance at minute 27 when she got off another shot on goal that Bledsoe saved.  The match closed the first half at zero goals for each team.
In the second half, Lavelle had the first Spirit opportunity to score.  She fired off a rocket that Red Star keeper Naeher had to punch it out.  The Red Stars gained their one goal advantage off the foot of Yūki Nagasato in the 65th minute.  Nagasato's shot to the left post sailed just out of the reach of a diving Bledsoe sacrificing her body to try and stop the ball.
The goal by the Red Stars did not deflate the Spirit.  Play by both teams continued to be elevated as the Spirit tried to level the score and the Red Stars tried to put a seal on the potential win with another goal.  In the end, Nagasato's strike was the only goal of the game.
The Spirit will play a home game again on August 21st against the Utah Royals at 7:30 p.m.